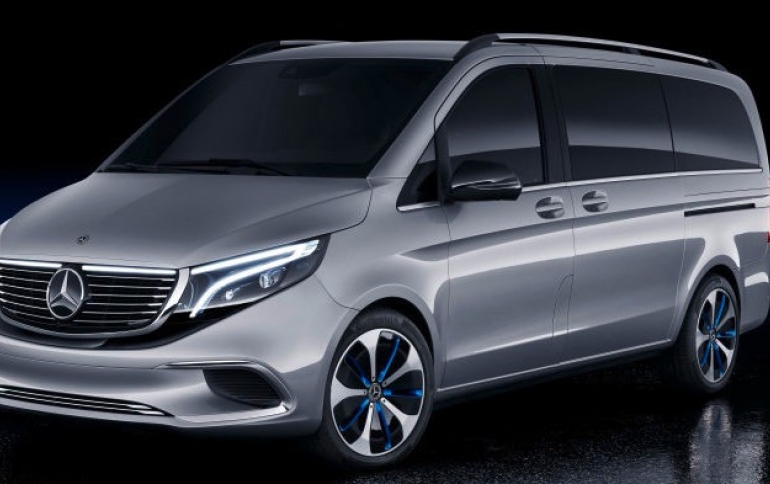 Mercedes Debuts All-electric Concept EQV Van
Mercedes will have on display at the Geneva International Motor Show the purely battery-electric Concept EQV concept vehicle.
Technical highlights of the vehicle include a range of up to 400 kilometres and rapid charging to enable a range of 100 kilometres within just 15 minutes. What's more, the vehicle offers comfort in its interior and a diverse range of possible seating configurations.
The Concept EQV features a compact electric drivetrain (eATS) on the front axle with an output of 150 kW. The electric motor, the transmission with fixed transmission ratios, the cooling system and the power electronics form a compact and integral unit.
Energy is supplied by a lithium-ion battery. Thanks to a capacity of 100 kWh, a maximum range of up to 400 kilometres is realistic. And with a top speed of 160 km/h, it ensures driving pleasure even out of town.
The concept vehicle can be charged at home using a Mercedes-Benz wallbox or a regular household plug socket. There is also a rapid charging function: within just fifteen minutes, the battery can be charged with sufficient energy for a range of around 100 kilometres.
By installing the battery in the vehicle's underfloor, the entire interior space is available without restriction.
When equipped with six individual seats, for example, the Concept EQV makes for a representative shuttle vehicle which fulfils all of the requirements of VIP transport. The concept car can be also converted to a 7 or even 8-seater with the addition of individual seats or seat benches.
As a member of the EQ family, the Concept EQV also supports the brand's electromobility ecosystem. This starts with advice and a range of services, right up to the charging infrastructure and even a modified navigation system which takes into account the charge level of the battery. There will also be apps which, for example, enable control of the pre-entry climate control or cash-less payments at public charging stations. The basis of the interaction between man and machine is formed by the MBUX infotainment system (Mercedes-Benz User Experience) which unites a self-learning voice control system with connectivity features.