9. 3T Jitter Tests
LiteOn SOHW-1653S DVD Burner
3T Jitter Tests
On this page you can see the 3T Pit & Land Jitter graphs using various media burned at 48X CAV writing speed.
- 3T Pit results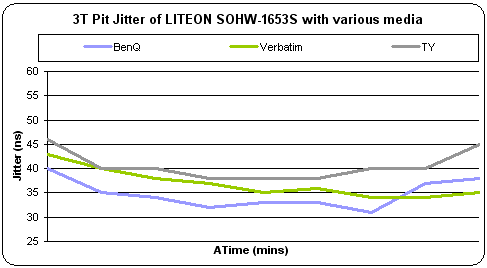 The highest 3T Pit jitter level reached was 46nsec (TY), which is above the Red Book limit (35nsec). Best results were achieved with BenQ media which also overshot the 35nsec limit though.
- 3T Land results
Again, the performance is not all that good with all media brands having levels in excess of the limit. Even the averages are over 35nsecs.
On the following page, we check the C1 and C2 error rates of the same discs, to come up with more specific conclusions.