6. DAE Tests
LiteOn SOHW-1653S DVD Burner
DAE Tests
- Pressed and CDR AudioCD
The LiteON SOHW-1653S supports up to 48X CAV DAE speed. When using pressed AudioCD and its CD-R copy with EAC, we logged the following results:
Great performance from the LiteON drive in this test. Fast ripping with no problems at all and in fact a good deal faster than the other drives in the comparison.
- Advanced DAE Quality
The LiteON SOHW-1653S supports reading of SubChannel data Leadin / Leadout data and CD Text and was, again, the fastest of all the drives in this comparison. The SOHW-1653S received a score of 100 (perfect) in the Nero CD Speed Advanced DAE test.
- Reading 90/ 99mins AudioCDs
Unfortunately, the drive could not read the entire 90mins disc, reporting the above error after 81 minutes.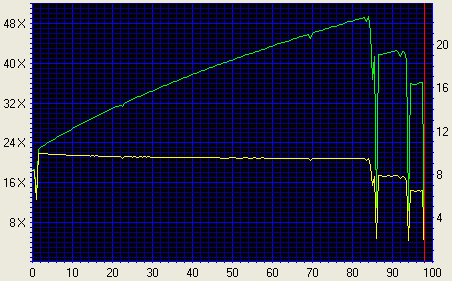 99mins discs were no problem for the LiteON SOHW-1653S, but reading speed was reduced around the 85th minute.