1. Package - Installation
LiteOn Slimtype SDW-431SX - Page 1
The latest external DVD writer from LiteOn is the SDW-431S. According to the manufacturer, the drive supports 4x DVD+R, 2x DVD+RW and 2x for DVD-R/RW. Of course, the drive is also a CD recorder with support for speeds of 24x and 10x for CD-R and CD-RW respectively, while as a reader, the drive can easily read DVD at the speed of 8x and CD at 40x. Below are presented analytically, the specifications for the new drive as they have been declared by the manufacturer.
- Features

SMART-BURN avoiding Buffer UnderRun Errors, automatically adjusting writing strategy & running OPC to provide the best burning quality.


SMART-X function adjusts CD-DA / VCD / DVD data extraction to the fastest allowable speed according to both data request rate from host and disk quality.

FDSS® system reduces vibration and noise during recording and reading .
- Specifications
Interface

USB 2.0

Buffer Size

2 MB

Access Time

DVD Family :128 ms
CD Family : 110 ms

Write Speed

DVD Family
Writing speed: DVD+R 4x ( 4500KB/sec ) by Z-CLV
DVD-R 2x ( 2700KB/sec ) by Z-CLV
Re-writing speed DVD+RW 2x ( 2700KB/sec ) by Z-CLV
DVD-RW 2x ( 2700KB/sec ) by Z-CLV
CD Family
Writing speed 24x ( 3600KB/sec ) by CAV
Re-writing speed 10x ( 1500KB/sec ) by CAV

Read Speed

DVD Family
8x ( 10800KB/sec ) by CAV
CD Family
24x ( 3600KB/sec ) by CAV

Supported
Read Formats

DVD Family
DVD single / dual layer ( PTP / OTP ), DVD-R ( 3.9 GB / 4.7 GB ) , DVD-R multi-borders, DVD+R, DVD+R multi-sessions, DVD-RW, and DVD+RW

CD Family
CD-DA, CD-ROM, CD-ROM / XA, Photo-CD, Multi-session, Karaoke-CD, Video-CD, CD-I FMV, CD Extra, CD Plus, CD-R, and CD-RW


Writing mode

DVD Family
DVD Data and Video
CD Family
Support Fixed Packet, Variable Packet, TAO, SAO, DAO, Raw Mode Burning

Support OS

Windows 98SE / ME / 2000 / XP

Dimensions


135.0 ( W ) x 22.0 ( H ) x 174.0 ( D ) mm

Weight

405 g

Support both 8 cm and 12 cm disc of CD and DVD family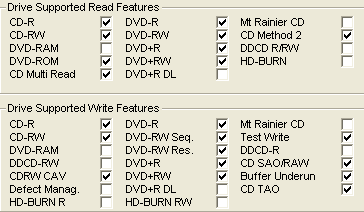 As shown in the above snapshots, the drive has 2MB buffer, is able to write under TAO, DAO, SAO, and RAW modes but does not support Mount Rainier, DVD-RAM and DVD+R DL reading and writing.
- Retail package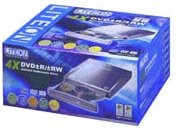 The retail package includes the LiteOn external drive, a USB cable, an audio connector cable for speakers or headphones and the power supply cable.
As for software, the retail package includes CyberLink Power DVD XP for DVD-Video playback and Sonic MyDVD for Video authoring. There is also a floppy with USB 2.0 device drivers for Win98.
Finally there are two blank DVD media, one DVD+R and one DVD-R, to get started with your first DVD writing.
- The drive
The drive's front panel, which is basically the loading tray, has the activity led indicator, the eject button and the emergency eject hole.
On the upper side of the drive are placed the supported media format logos along with LiteOn's logo and the power led indicator.

On the rear panel, there are the USB 1.1/2.0 connector, the power adapter input and an audio line output, in case you want to connect the drive to external speakers and use it as an audio playback device.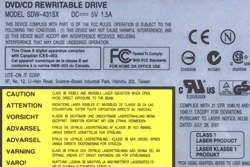 - Installation
Our test PC was a 1.8 GHz P4 configured with 512Mb RAM, an 80GB 7200rpm hard drive and Windows XP Professional SP1. The drive was connected to our test PC and was identified as "Slimtype DVDRW SDW-431S". All reading tests were done with firmware vMSOJ.
For the recording tests we updated the firmware to the latest vMSOK, released just a few days before. The new firmware adds support for a lot more media.
The following pages include test results for LiteOn drive in comparison with two other external DVD burners, the FREECOM FX-50 DVD+/-RW and Pioneer DVR-SK12D Dual DVD±RW recorders.