3. Reading Tests
LiteOn LVW-5005 DVD Recorder - page 3
Reading Tests
Although this device focuses mainly on recording, we carried out our usual reading tests, because most of LVW-5005 owners will use it for both reading and recording.

In the mode of playback, the device has nothing to complain about. We get an easy access to all the appropriate settings. Below, just for reference, there is a screenshot of the LiteOn recorder while playback. The displayed settings may vary depending on an inserted media type.

You can also choose whether to be presented information about the inserted media, or not.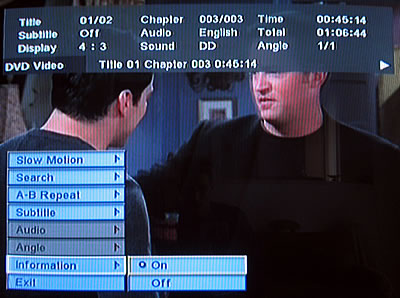 DVD support
The LiteOn LVW-5005 we have in our hands is a region-2 drive, which means that the player is able to decode (play) only the pressed DVD-Video discs coming from the European region. However, there is a simple way in which you can unlock the region on this device. In the setup menu go the Exit button and press 2,9,6 and 0. An extra submenu will appear, from which you can select the region you wish or just stick to the region- free option. Unfortunately, there is not such option for Macrovision remove, as it was in LVW-5001 model.

We recorded a 4.35GB DVD-Video file on various DVD+R/-R, DVD-RW/+RW media. The recorders we used are some of the latest dual-format available on the PC market, as well as some 1st generation recorders. Pressed single / dual layer DVD-Video discs were also verified in the test. All the test discs were created in the same PC /software in the DVD-Video mode.
We checked the player's disc recognition, as well as smooth navigation and playback. The results were very impressive, since all the discs were read completely. See the drives and media we used in the table below:
Recorder

Media

Speed recorded

Recognition

Playback

Sony DRX-500UL v1.0c

TDK DVD+RW 2.4x

2.4x

OK

Sony DRU-530A v2.0h

Mitsubishi Chemicals DVD+R 4x

4x

Taiyo yuden DVD+R 4x

4x

N-Tech DVD+R 4x

4x

Philips DVD+R 4x

4x

Pioneer DVR-107D v1.05

JVC DVD-R 8x

8x

MKM DVD+R 8x

8x

CMC DVD-R 4x

4x

CMC DVD+R 4x

4x

NEC ND-2500A v1.06

JVC DVD-RW 4x

4x

Maxell DVD+RW 4x

4x

Ritek DVD-R 4x

4x

Mam DVD-R 4x

4x

TDK DVD-R 4x

4x

Plextor DVD+R 4x

8x

Mitsubishi Chemicals DVD-R 4x

8x

Taiyo Yuden DVD-R 4x

8x

Optorite DD0401 v1.30E

MKM DVD+R 8x

8x

Hi-Space DVD-R 4x

4x

Verbatim DVD-R 4x

4x

BTC DRW1008IM v0.55

Pioneer DVD-R 4x

4x

LiteOn LDW-811S vHS0K

FujiFilm DVD-R 4x

4x
As it was expected all the DVD±RW disc were played successfully without problems.
The LiteOn LVW-5005 supports reading of DVD-ROM format.
The LiteOn LVW-5005 works well with AudioCD, CD-R/-RW, VideoCD and Super-VideoCD playback. The *.cda files of any audioCD are recognized correctly, even when the disc is factory- pressed or is a CD-R/RW. In addition, CD-Text is supported.
Please notice that, when talking about data CD (CD-R/-RW), we refer to either compressed audio files (MP3, WMA, Ogg Vorbis.), pure *.wav files, or to VideoCD and Super VideoCD.

In case of pressed AudioCDs the player recognizes and plays all the tracks, offering additional features like CD-Text reading and navigation between tracks, as already mentioned on the previous page. This also applies to CD-R and CD-RW discs. The device played audio files of the CD-R, 10x HS-RW, 24x US-RW and 32x US-RW discs we inserted in the disc tray.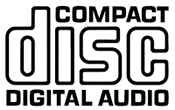 In addition, no problems were noticed either when we played 8cm CD-R/-RW (185MB), 90/99min CD-R or CD business cards, but only as long as they are round- shaped. The player's tray is not designed to accept any other media shapes, which we can sometimes observe in case of smart cards or business cards.
LiteOn LVW-5005 will not let anyone who has purchased any protected audio discs in a music store down. The discs we tested were "Natalie Imbruglia - White Lilies island" protected with Macrovision' Key2Audio system, and "Celine Dion - A New Day Has Come" protected with Cactus Data Shield 200. Both titles were recognized and played without any problems., which is good news as this kind of media are practically not playable on PCs due to the protection schemes designed to discourage PC users from copying.
The LiteOn LVW-5005 does not support Super AudioCD.
Compressed Audio (data CD)
Let's see now how the player reacts to various compressed audio files stored on data CD-R/RW. Although the specifications of DVP-NS330 clearly indicate MP3 support, it is not sure whether the drive can handle all MP3 compression modes. CBR or VBR encoding mode and variations in the sampling rate could be hard for any reader to decode. The table below shows a list of MP3 and WMA files with a variety of compression settings and reactions of the device to them.
Compression type

Compression settings

Recognize / Play

MP3

CBR 20kBit 11025Hz Mono

Yes

CBR 20kBit 11025Hz Stereo

CBR 32kBit 11025Hz Stereo

CBR 32kBit 22050Hz Mono

CBR 40kBit 22050Hz Stereo

CBR 48kBit 22050Hz Stereo

CBR 48kBit 44100Hz Mono

CBR 56kBit 22050Hz Mono

CBR 56kBit 44100Hz Mono

CBR 64kBit 22050Hz Stereo

CBR 96kBit 22050Hz Stereo

CBR 96kBit 44100Hz Mono

CBR 96kBit 44100Hz Stereo

CBR 112kBit 44100Hz Stereo

CBR 128kBit 44100Hz Mono

CBR 128kBit 44100Hz Stereo

CBR 160kBit 44100Hz Stereo

CBR 192kBit 44100Hz Stereo

CBR 224kBit 44100Hz Stereo

CBR 256kBit 44100Hz Stereo

CBR 320kBit 44100Hz Stereo

VBR - High compression

VBR - Highest compression

VBR - Low compression

VBR - Lowest compression

VBR - Medium compression

Windows Media Audio

(WMA)

WMA 48kbps

No

WMA 64kbps

WMA 96kbps

WMA 128kbps

WMA 160kbps

WMA 192kbps

WAV

WAV
Both formats are supported.