7. Conclusion
LiteOn LVW-5005 DVD Recorder - page 6
Conclusion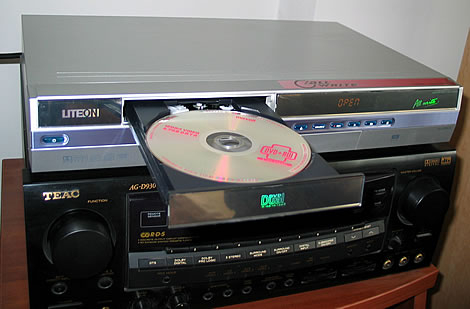 LiteOn LVW-5005 is a very impressive player, as far as the appearance is concerned. It undoubtedly stands out distinguishes from other, usually black, stand-alone devices. We connected the LiteOn using all provided connections in order to test them. For audio, we recommend the digital outputs for advanced sound reproduction, DD5.1CH and DTS 5.1CH. For the image quality we would suggest the S-Video output. The included remote control is ergonomic and easy to use. Owing to the simplicity of the menu, you can do almost anything you wish, in a few non-complicated steps.

The LVW-5005 has a built- in tuner for TV signal. This is very good, as a feature, but seems to us that it should be a little easier to locate a channel, although the communication interface is very helpful.

The great pro that makes these devices special is the recording capability on both DVD-R/RW and DVD+R/RW formats along with AudioCD, VCD and SVCD as well. There are several connections enabling recording from another source. It is worth noticing that except for usual AV and Scart inputs we are also equipped with a DV one- for digital recordings. Coming up to our expectations, the device can also record TV signal from the built-in tuner. The provided writing qualities are also a desirable feature as you can record up to 6 hours in SLP quality. However we recommend the highest ones- HQ and SP.

One thing we didn't like is that you cannot record from a protected movie. We put a normal DVD movie title on our Pioneer DV-464 player that we connected to the LiteOn recorder for backing up our movie. Unfortunately, we saw a message informing us that it is impossible due to the Macrovision protection. Furthermore, there is no setting option which could disable this.

The writing quality is good with almost all the DVD media we use. Although there were some cases with increased PI/PO levels, CDSpeed didn't report any problem.
The error correction of the LiteON LVW-5005 is rather good. It managed to read over 1.8mm defects but off course depends on the type of scratch. However, with the CD-Check Audio test disc, we have observed better behavior.

LiteOn LVW-5005 is already on the market at various prices between $260~320, which appears rational. But since the market of this kind of devices is growing rapidly, prices will be significantly lowered in not so distant future.