7. BD Movie Playback
In order to perform our BD Movie Playback tests, we used two BD Movies. The first one is "Open Season" (SL BD) and the other one is "Casino Royale" (DL BD). The screenshots that we have gathered are from the playback of the first movie.
The drive's minimum system reqirements for BD playback are:
CPU: Intel Pentium 4 2.0 GHz or higher
Memory: 512 MB RAM or higher
OS: Windows 2000 SP4 / XP / Vista
However, the recommended specifications for BD Playback and Authoring are:
CPU: Intel Pentium D 3.0 or higher
Memory: 1GB RAM or higher
OS: Windows XP SP2 / Vista
GPU: NVIDIA 7600 GT or ATI X16000 and above.
HDCP capable graphics cards with 256 MB RAM, 1920 x 1200 resolution, 32-bit color.
HDCP capable monitor / TV for HD digital output.
Our testing system consisted of the following:
Intel Core2 CPU 6600 @ 2.40GHz
2046MB RAM (Samsung DDR3)
Windows XP Professional SP2
NVIDIA GeForce 8600 GTS with 256 MB RAM
a typical non-HDCP monitor, using a resolution of 1600x1200 at 85 Hz
and the playback process was completed flawlessly.
We connected our non-HDCP monitor with a typical analog (VGA) connector. The reason of us doing this, was our intention to check any possible downgrade on the image quality, when using an analog monitor instead of an HDCP-capable. However, this did not occur, at least with the two Blu-ray titles we used in this test. For the same reason, we used the highest possible resolution with this monitor, which was also close enough to the High Definition specifications.
Should someone want to watch a BD movie on an HDCP capable TV, he would have to connect the graphics card digital output (DVI) to the TV's digital input (DV I to HDMI cable), and also connect the output of the audio card to the adjacent TV/Home Cinema input.
The application we used to watch the movies was Cyberlink Power DVD v8.
Firstly, we had to change the drive's region according to the region of the movie.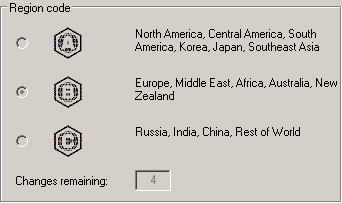 The playback started, and here are some screenshots: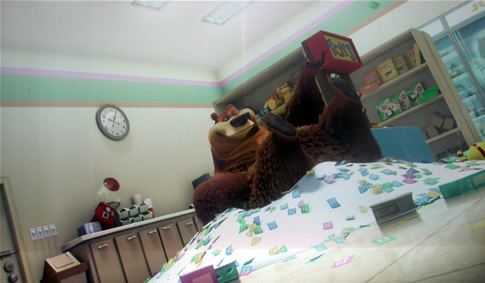 In this frame PowerDVD shows us info about the movie and the video/audio bitrate for a specific scene. This varied from approximately 10Mbps to 45Mbps, depending on the complexity of each scene of the movie.
Playback was flawless with the CPU utilization to hardly reach the 25%, for the specific PC configuration. Forward/reverse operations were resumed without any problems throughout the complete movie.