1. Blu-ray entertainment on the PC
The DH401S is LiteON's latest internal Blu-ray drive and the company's second drive that carries the "Blu-ray disc" logo, after the LiteOn LH-2B1S BD burner. However, this drive is a BD-ROM device and supports reading of all the CD/DVD/BD media currently available, except from the DVD-RAM. LiteON has already released in the US another version of the DH401S drive supporting reading of DVD-RAM discs.
Reading speeds of BD media are set high enough. Specifically, the drive can read all of the BD types at 4X. DVD±R media can be read at 12X, DVD±R DL at 8X, and DVD±RW at 8X.
- Key Features
Playback of High Definition Blu-ray movies.
Also compatible with DVD and CD formats
Higher transfer rates with SATA connection (compared to PATA)
Compatibility with the latest motherboards
Better airflow in PC casings due to smaller cable and plug sizes
SATA supports "hot swap" (must be supported by your motherboard)
- Drive Specifications In Detail
BD Family

Read
BD-ROM
4X
BD-RE
4X
BD-R DL
4X
BD-RE DL
4X
Access time
160ms

DVD Family

Read
DVD+R/-R
12x
DVD+R/-R DL
8x
DVD+RW/-RW
8x
Access time
160ms

CD Family

Read
40X
Access time
160ms

PC Required

Pentium 4 2.0GHz or faster CPU and 512MB or higher RAM are required.
> 30GB HDD available capacity.

For High Definition BD Playback & Authoring: (Only Windows XP SP2)
Pentium D 3.4GHz or faster CUP and 1GB or higher RAM are required.
GPU : nVidia GeForce 7600GT / 7800GTX512 / 7900GX2 / 7900GTX / 7950GX2 and ATI X1600 / X1800 / X1900 series are recommended.
>60GB HDD available capacity.
HDCP capable graphics card with 256MB RAM, PCI Express x16, 1920x1200 resolution, 32bit color.
HDCP capable Monitor or TV for High Definition digital output.

Compatibility

Microsoft Windows 2000 SP4 / XP SP2 / Vista

General

Environment
Operating
5°C to 50°C; Relative Humidity: 8% to 80%
Non-Operating
-20°C to 60°C; Relative Humidity: 5% to 95%
Dimension
145.8(W) x 41.4(H) x 180(D) mm
Weight
< 0.8Kg
Voltage Requirements
+5V +/-5% ripple: 100mVpp
+12V +/-10% ripple: 200mVPP
Retail Box
Including:
Application software kits disc (Power DVD 7.3, Manual)
Quick user's guide
SATA cable
Mounting screws
- Photos of the drive:

Front and Rear view photos of the drive.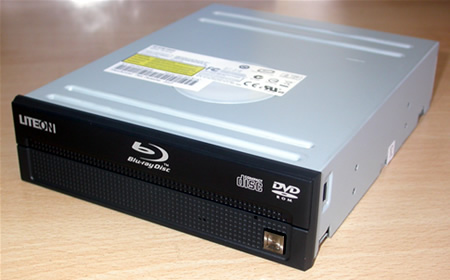 The drive is stylish and definitely matches to your black PC box.
It connects to the PC via the SATA interface.
Our test sample was manufactured on the December 2007 in China.
Installation
The drive was recognized as "ATAPI BD O DH4O1S" . It comes with a 8MB internal buffer memory for worry-free playback of DVD and especially Blu-ray movies. Region control for the DVD format is the typical RPC-2, while for the BD format, the drive follows the international region codes as we will see in the following pages.
Let's now move on to the reading tests.