Kingston HyperX 120GB SSD review
5. Benchmarks - page 3
We proceed with the AS SSD benchmark, which contains five synthetic as well as three practical tests. The synthetic tests determine the sequential and the random read / write performance of an SSD. These tests are carried out without using the operating system's cache. The Seq-test measures how long it takes to read and write an 1GB file. Most importantly, this sequential benchmark uses incompressible data for all of its transfers.
The 4K benchmark tests the read and write performance for random 4K blocks. The 4K-64-THRD-test corresponds to the 4K procedure except that here the read and write operations are distributed on 64 threads.
The drive produced a good 499.67 MB/s read speed, and a lower than expected 159.93 MB/s write performance. Single-threaded 4K IOPS performance delivers just 12.93MB/s read and decent 63.27MB/s write, while the 64-thread 4K reads recorded 115.67MB/s and write performance was 153.51MB/s.
The Kingston HyperX SSD's controller architecture that allows for the drive to perform so well in day-to-day activities also limits it's compressed data file transfers. The SandForce controller compresses all data before it reaches the flash, if that data is compressible. Incompressible data, or data that has already been compressed has been an issue with SandForce controllers but by pairing the controller with synchronous flash SandForce based products can now compete with solutions from other controller manufactures. Although not the fastest products at transferring data, the firmware and choice of flash has allowed the HyperX to be competitive with this field.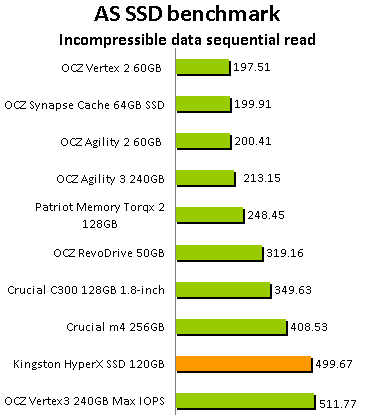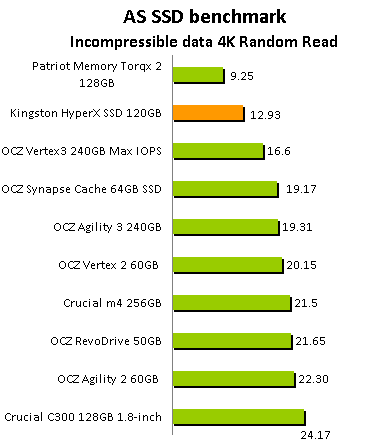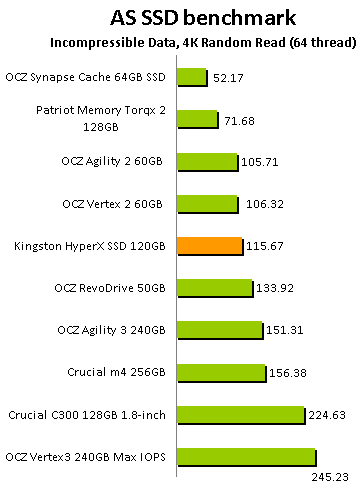 In the following test, the HyperX 120GB SSD is reading and writing files, which have been partially of fully compressed. On the compression benchmark we can see results that climb as the test goes on at it peaks around 480MB/s which is a very good result that is around the specified speed.