Interview with DaTARIUS' James Steynor

We interviewed Mr James Steynor, Chief Executive Officer and Chairman of DaTARIUS Group, world-leading supplier of test equipment, not only proving the quality of media but helping to improve quality through comprehensive products and services that embrace process optimization.

Can you give us a little background on DaTARIUS, its history and development from the late 80s to the present.
DaTARIUS has a long and impressive history: it started as Koch in the 1980s, and the company was the second in Europe to replicate CDs. At that time, test equipment did not exist so we built our own.
Since we developed the first quality control analyzer for the optical media industry, we have continued to set standards and design breakthrough solutions, all of which have led to success for many major replicators and disc producers. Standard test buzzwords such as "Split test" (taking a number of test drives and using each to test part of a disc to speed up the process) and "Jitter" (measuring the geometry stability) were originated by DaTARIUS.
The DaTARIUS name was created in 2000, following the separation of Koch test equipment from the kdg media manufacturing group. Within three years, DaTARIUS acquired three major names in the inspection, testing and verification equipment market – CD Associates, Integral Vision's optical disc branch, and the assets of aeco Ltd (formerly Aerosonic).
What role does DaTARIUS currently play in the optical storage industry and how vital is this role?
DaTARIUS works closely with the standard setters such as Philips, DVD Forum and BD Association to contribute to the specifications, as well as with the media manufacturers to help them prove their products and improve their process.
" We prove our customers' products against the industry specifications and help them to improve their production process"
Optical media, pre-recorded and recordable, are produced worldwide in mass and are one of the most common means of data storage across the world. Associations like Philips and the DVD Forum, define technical specifications for the media and players. During the production of the media and drives, these specifications must be upheld to ensure playability for the end-users. Over the last 20 years, DaTARIUS has been supporting the industry in developing tools to ensure that optical media conforms to these industry specifications and that media will play on the market.
The DaTARIUS position in the optical media marketplace, enables us to collect important information on the entire replication process, from mastering to packaging. We receive valuable direct input from major global disc producers, which gives us a clear picture of manufacturing issues and challenges.
Our genesis lies in the manufacturing company KOCH, which gives us an in-depth knowledge and understanding of the manufacturing process (from authoring through to packaging).
For BD and HD DVD, we currently finalize testing solutions for laboratory and production environment solutions. These products will be introduced to the market during the coming exhibition, Media-Tech Expo, taking place in Las Vegas.
Where are your major markets located and where do you see them being 5 years downstream?
The Asian market (mainly China and Taiwan) is the core of the recordable media production. The Middle East is a very fast growing market for recordable media as well.
USA and Europe are strong market for pre-recorded equipment (CD and DVD)
In 5 years we expect to see USA and Europe as strong market place for pre-recorded DVD , HD DVD and BD equipment. Asia and the middle-east will remain more focused on recordable formats.
Can you give us a brief rundown of DaTARIUS product line?
Today's competitive optical media market place demands the highest possible efficiency. Not only do producers need to run as close as they can to the operating window with the shortest possible cycle time, they also need to minimize wastage and, as far as possible, eliminate returns. This can be achieved only by checking the product throughout every stage of the manufacturing process.
The DaTARIUS products and solutions are divided in 3 groups:
MEASURE
With higher density discs and copy protection concerns, maintaining tight control of technical properties and content is vital at every stage of the manufacturing process, from the earliest stages of pre-mastered content verification through to the final disc manufacture. Measuring is performed using drives where the disc is played and the information is then extracted and processed 'electronically'.
DaTARIUS has two approaches to measurement: analyzing conformity to the standard using drives that are to the industry specification; and evaluating characteristics on 'consumer grade' drives. The measurement systems can then also verify that the data itself complies to the original source and with the structure specified in the relevant standard.
Measure (both analyze and evaluate) the physical properties of pre-recorded and recordable (blank and written) optical media – including masters and stampers.
Verify the content on a master, stamper or replica, comparing it with the data source or other key stages of the manufacturing process.
Accommodate the widest range of copy protection algorithms and verify that these are correctly formatted.
A major focus for us is making all our measurements at higher than real time speed – 4X or more in some cases. This not only speeds up the testing process but also validates playability at the high speeds used by PCs when uploading data (or recording that requires a play cycle to determine write location) and of course games units.
INSPECT
In today's environment of faster turnaround times, higher automation, and a more sophisticated product with enhanced printing and holograms, inspection is vital, particularly towards the finishing stages of the optical media production process.
Producers must ensure that there is no product mixing of any kind (that includes ensuring layer matching on bonded product) and that the correct discs are in the production flow at any given time.
Ident Code inspection, including matching layers on dual layer DVD-9/18
Print Label inspection to ensure that the quality standard demanded by the customer is consistently achieved
Disc orientation for specific disc alignment requirements, for instance, with cover-mounts and special packaging
OPTIMIZE
With the high investment represented by replication plants, both in plant and materials, disc manufacturers want to attain the best possible yields.
DaTARIUS offers different solutions to help optimize quality and provide higher output at reduced costs while regulating energy and material consumption:
Mould temperature regulator to reduce cycle time, start-up performance, and disc quality and consistency
Sprue recycler for on-site recycling to save time and money, removing the need to collect and store sprues for offsite processing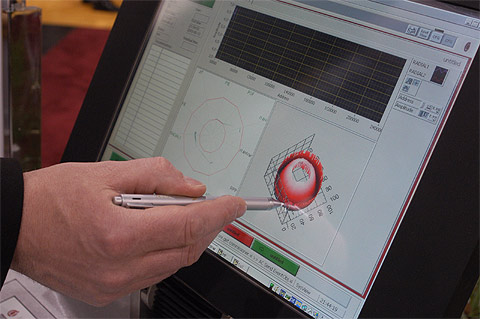 How about a taste of upcoming products you currently have on the drawing board?
The DaTARIUS flagship product is the DaTABANK™. Following the path of the existing DaTARIUS Tower system, the DaTABANK has established itself on the market as reference testing platform for pre-recorded and recordable DVDs. We will release officially the BD and HD DVD analyzers during the coming Media-Tech Expo taking place in Las Vegas in May. These follow the modular concept of the existing DaTABANK ™ with drives configured in a Cube design. This patented design allows the analyzer to be integrated in the DaTABANK™ platform or directly in a replication line for inline testing.
We are also working on the integration of copy protection and bit-to-bit comparison module (comparing a replica with its stamper, glassmaster or DLT tape).
We have also introduced the Universal Stamper Checker. This unit does a full scan of a stamper (front and backside) in 2 minutes. So before mounting the stamper on the moulding machine, manufactures make this quick check and eliminates the risk of producing bad discs with a bad stamper.
On the optimize side we are finalizing a new version of our Universal Sprue Recycler.
What can we expect technologically from DaTARIUS in the future, both short term and long term?
One focus is on establishing a centre of excellence in Eindhoven Holland to focus on process development such that we increase our support to customers who increasingly, with BD and HD DVD, face many challenges associated with these ever more complex formats.
To that end, we have recently appointed Dr. Mischke as our director of research. He will lead the research in blue laser formats but also look into the new technologies such as holographic storage based out from our Dutch location.
What are the major problems as you see them, facing the optical storage industry today?
The price of raw materials especially polycarbonate is increasing drastically. Therefore waste minimization and recycling is the top priority for optical media manufacturers around the world.
Test equipment which delivers accurate results faster than reference speed to have faster a picture about the discs quality. The ordered batches for pre-recorded media are less and less –orders of 1000 to 3000 discs are now often the norm. This presents some challenges as, for example, a DVD line has a cycle time of less than 3 seconds it means that in approx. 45 minutes your batch is produced that is why it is vital to know the quality of the discs much faster. Further, our mould cooling unit allows optimum production to take place far sooner after a stamper change (say within 10 discs rather than 60+ when using regular technology).
Sprue recycling is one major saving-action. It has been proven that re-grinded sprues can be re-injected with virgin polycarbonate without adversely influencing the quality of the media produced.
Overall, the industry suffers from bursts of growth that then lead to periods of overcapacity – not by any means unique but often more dramatic than other industries simply because of the relatively small size of this sector.
The confusion of again competing formats in the next generation blue laser discs (BD v HD DVD) not only leads to consumer confusion it also makes producers question the life left in the existing formats and this causes a delay in investment. The concern is that if we as an industry cannot overcome these challenges in a timely manner we force people to look elsewhere for solutions for these higher storage capacities and that is bad.
Where and how can DaTARIUS help solve these problems?
We are focusing presently at solutions that help our customers improve margins making the most from their investments by speeding up lines and reducing waste.
Originally we had the dual standards battle between +R and -R and now we have Blu-Ray versus HD DVD. On the one hand, dual standards are confusing for consumers. On the other, it breeds competition between the rival camps which fuels development. What are your thoughts on this and is it a trend that will carry on to the next generation of optical storage media?
Going back to the birth of DVD we saw two competing formats that led to a delay of perhaps 1 to 2 years on the launch of DVD and in many peoples eyes a compromise on the final format. Rarely does a format war on this basis give us a better format – typically you end up with a compromise that takes a middle ground and this is bad for the consumer and industry alike.
In the case of the pending war on blue laser formats we at least have this starting before real consumer demand arrives. We have yet to have significant penetration of High Def TV broadcasting (outside of Japan) and large inexpensive flat screen technology (such as OLED/POLED) has yet to take off. In this sense the market has time to resolve this battle but it would start to become damaging if sustained into 2006.
In summary, formats that come from committees usually are not as good as focus of a small team of like minded parties looking at the best technologies.
How big a role does R&D play in DaTARIUS?
R&D plays a major role inside DaTARIUS. The optical media industry is fast growing and thus new challenges arise everyday e.g. need for faster measurements, development of additional parameters. Overall, R&D is the lifeblood of the business.
Do you design your own circuit boards and write software inhouse, and how much of your product line is actually DaTARIUS' own design?
All designs are our own and we subcontract manufacture of most sub systems that then come back for final assembly and test. All our software is written by our engineers with some outsourcing when capacity needs arise.
An added cost for any manufacturer is the royalties that must be paid. What are your views on this and what would you like to see change here?
We all accept that the innovators need paying otherwise why bother to develop new formats and related technology. The model whereby the disc producers pay this for a produced disc does at times appear rather flawed and perhaps a better way could be getting the copyright holder (content owner) to pay. Clearly this would not apply to blank media where the model of disc producers paying would perhaps have to remain. Notwithstanding this, it appears unlikely that the existing arrangement will change.
Please visit the DaTARIUS web-site for product information and full company details.