IFA: Huawei Says it Has an Edge Over Apple With New Kirin 970 Mobile AI Chipset
Chinese smartphone maker Huawei Technologies unveiled its first artificial intelligent smartphone chipset on Saturday as it gears up to compete against the new iPhones.
The smartphone maker is hoping that the Kirin 970 AI mobile chipset will lure more buyers to what it calls its most powerful handset yet, the Mate 10, slated for launch in October.
The move comes as this year marks the 10th anniversary of Apple's iPhone. Apple is expected to unveil a slew of new offerings, including latest the iPhones, on Sept. 12 in the US.
Huawei aims to use artificial intelligence-powered features such as instant image recognition to take on rivals Samsung and Apple. Kirin responds to three questions -- "the most important combination," said Richard Yu, chief of Huawei's consumer business group: Where is the user? Who are they and what are they doing?
"You ask your personal assistant what's the weather in Berlin," Yu said. "But in-device AI already knows that you're in Berlin, on work assignment, on your way to a meeting, and if you're waiting outside or if you're already inside the car.."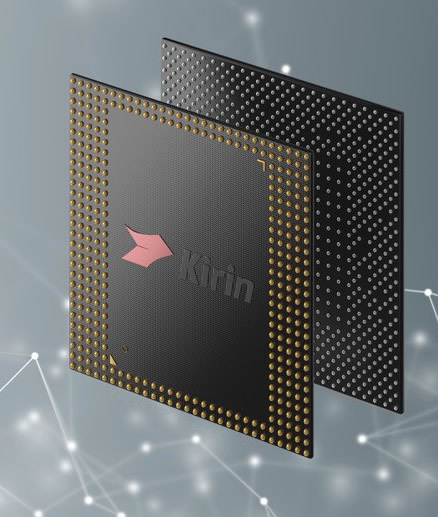 "The Kirin 970 is faster, better and more secure than anything else available [in the market]. This is the latest technology and it is the first chip to have a neural processing unit inside, which is 20 times faster than a central processing unit," Yu said.
"It is a major breakthrough for Huawei. We will enable the first use of AI technology in mobile apps, and provide consumers with a never-before-seen AI experience right in the palm of their hands," he added.
"Mobile AI = On-Device AI + Cloud AI. Huawei is committed to developing smart devices into intelligent devices by building end-to-end capabilities that support coordinated development of chips, devices, and the cloud. The ultimate goal is to provide a significantly better user experience. The Kirin 970 is the first in a series of new advances that will bring powerful AI features to our devices and take them beyond the competition," Yu said.
The company claims that mobile devices powered by the Kirin 970 will be able to "truly know and understand their users," supporting real-time image recognition, voice interaction and intelligent photography with ease.
The Kirin 970 is Huawei's first mobile AI computing platform featuring a dedicated Neural Processing Unit (NPU). Compared to a quad-core Cortex-A73 CPU cluster, the Kirin 970's new heterogeneous computing architecture delivers up to 25x the performance with 50x greater efficiency. Simply put, the Kirin 970 can perform the same AI computing tasks faster and with far less power. In a benchmark image recognition test performed by Huawei, the Kirin 970 processed 2,000 images per minute, which was faster than other chips on the market.
The chipset integrates 5.5 billion transistors in a single square centimeter, which includes an octa-core central processing unit, a 12-core graphics processing unit, a dual image signal processor, a high-speed 1.2Gbps Cat.18 modem, and an AI mobile computing architecture.
The Kirin 970 is designed by Huawei's HiSilicon chip design business and has been manufactured using the most advanced 10-nanometer technology from Taiwan Semiconductor Manufacturing Co., which is also supplying all the core processors for the upcoming iPhones.
Both Apple and Huawei are expected to offer face recognition among other new features with their new phones.