Google Pixel Event: Pixel 4 Smasrtphone, Stadia, Nest Mini, Pixel Buds, Pixelbook Go and More
Google's Pixel event in New York unveiled the launching data of Google Stadia, the Pixel 4 smartphone, the upgraded Nest Mini speaker, the Google Pixel Buds, the Pixelbook Go amd more.
Pixel 4 is here to help
Gogole announced the Pixel 4, a smartphone equipped with a camera that captures detail, allows you to use it without touching it, a new Google Assistant, and a fast display.
Pixel 4 brings Google's largest camera upgrade yet. There are now two cameras on the back of the phone, including a new telephoto lens. When you combine this new hardware feature with our Super Res Zoom software, it promises to give you exceptional image quality—even from a distance.
Night Sight already takes beautiful photos in full darkness, and now you can use Night Sight for shots of the night sky, the stars, and even the Milky Way. Pixel 3 and 3a will also get a version of this capability with the latest camera app update.
Starting with the original device, all Pixel phones have HDR+ (High Dynamic Range). With Pixel 4, you can fine-tune the brightness and amount of detail in the shadows, helping with difficult shots like sunset portraits. Pixel 4 also has Live HDR+ in the viewfinder so you know exactly what your photo will look like, even when you're using the new controls in tricky lighting.
Thanks to a deeper integration into Pixel 4, the Google Assistant is now a faster way to get more things done. More requests can happen right on your phone, without always sending your request to the cloud.
Google redesigned the Assistant so it doesn't take up too much room on your screen, letting you better multitask across other apps. It can quickly open apps, search your phone, share what's on your screen, and more. It also considers the context of your query to do a better job answering. For example, you can ask the Assistant to "show my photos from New York" and then say "the ones in Central Park." Then, you can share a picture by saying "send it to Mom."
Pixel 4's Motion Sense feature uses a miniature radar sensor to detect movement around your phone. It can sense when you're reaching for the phone and will initiate face unlock, or turn off your screen when you're not around. New Quick Gestures let you skip songs when you don't want to pick up your phone. Just wave your hand to snooze alarms, dismiss timers, or silence your phone ringer. Motion Sense is enabled everywhere Pixel 4 is sold, except in Japan where it's coming soon.
Pixel 4's new Recorder app records meetings, lectures, jam sessions—anything you want to save and listen to later—and simultaneously transcribes speech and identifies sounds like music and applause. You can search within your recordings to quickly find a specific word or sound. All of this happens on-device. Google's starting with English for transcription and search, with more languages coming soon.
Pixel 4 also comes with a new Personal Safety app that can automatically call 911 if it detects that you've been in a car accident. Car crash detection will be available in English in the U.S.
With 6GB RAM, a 90hz display, and Pixel Neural Core, Pixel 4 is fast and powerful. Pixel Neural Core is the engine for on-device processing, always-on computing, and machine learning, meaning more tasks are done on the device for performance and privacy.
Pixel 4 also includes Google's custom-built Titan M security chip to protect your most sensitive data and ensure the integrity of the operating system. Combined with the latest version of Android 10, monthly security updates for 3 years, and access to Google's advanced security services, Pixel 4 is designed to keep your data secure.
Google's is expanding the carrier partner lineup and will be selling Pixel through all the major U.S. carriers for the first time, including AT&T, C Spire, Cellcom, Google Fi, Spectrum Mobile (Charter), Sprint, T-Mobile, U.S. Cellular, Verizon, Visible and Xfinity Mobile (Comcast).
Beginning today, you can pre-order a Pixel 4 for $799 and Pixel 4 XL for $899, and phones will ship on October 24, globally. Pixel 4 comes in three colors, including Clearly White, Just Black, and a limited edition, Oh So Orange.
 
Pixel 4
Pixel 4 XL
Display

Fullscreen 5.7" (144.7 mm) display
FHD+ flexible OLED at 444 ppi
19:9
Ambient EQ
Smooth Display¹ (up to 90 Hz)
Corning® Gorilla® Glass 5
Always-on display
Now Playing
100,000:1 super contrast ratio
Full 24-bit depth or 16.77 million colors
True black level
HDR Support (UHDA certification)

Fullscreen 6.3" (160.0 mm) display
QHD+ flexible OLED at 537 ppi
19:9
Ambient EQ
Smooth Display¹ (up to 90 Hz)
Corning® Gorilla® Glass 5
Always-on display
Now Playing
100,000:1 super contrast ratio
Full 24-bit depth or 16.77 million colors
True black level
HDR Support (UHDA certification)

Dimensions and Weight

2.7 x 5.7 x 0.3 inches (68.8 x 147.1 x 8.2 mm)
162 g

2.9 x 6.3 x 0.3 inches (75.1 x 160.4 x 8.2 mm)
193 g

Battery

2800 mAh
18 W/2 A USB Type-C™ charger
18 W fast charging³
Qi-certified wireless charging

3700 mAh
18 W/2 A USB Type-C™ charger
18 W fast charging³
Qi-certified wireless charging

Memory and storage

6 GB LPDDR4x
64 GB or 128 GB

Processors

Qualcomm Snapdragon 855
2.84 GHz + 1.78 GHz, 64-bit Octa-core
Adreno 640

Titan M Security Module
Pixel Neural Core™

Rear camera

16 MP
1.0 μm pixel width
Autofocus with phase detection
Optical + electronic image stabilization
Spectral + flicker sensor
ƒ/2.4 aperture
52° field of view

12.2 MP
1.4 μm pixel width
Autofocus with dual pixel phase detection
Optical + electronic image stabilization
ƒ/1.7 aperture
77° field of view

Front camera

8 MP
1.22 μm pixel width
ƒ/2.0 aperture
Fixed focus

90° field of view
NIR flood emitter
NIR dot projector
2 NIR cameras

Video
Rear Camera:

1080p @ 30 FPS, 60 FPS, 120 FPS
720p @ 240 FPS
4K @ 30 FPS


Front Camera: 1080p @ 30 FPS
Sensors

Active Edge™
Proximity / Ambient light sensor
Accelerometer / Gyrometer
Magnetometer
Barometer

Android Sensor Hub
Sharp and textured haptics
Microphones
Motion Sense⁶

Charging

USB-C™ 18 W adapter with USB-PD 2.0

Wireless and location

Wi-Fi 2.4 GHz + 5 GHz 802.11 a/b/g/n/ac 2x2 MIMO
Bluetooth 5.0 + LE (HD codecs: AptX, AptX HD, LDAC)
NFC
Nest Mini brings twice the bass and an upgraded Assistant
Google announced the second-generation Nest Mini, which is completely re-engineered. Back in May, Google brought together the Google Home and Nest teams under the Google Nest brand, and Nest Mini features upgraded hardware and software to make it sound even better, and it brings the bass.
Nest Mini provides bass that's twice as strong as the original Google Home Mini (measured from 60-100 Hz at max volume). If you're listening to music, podcasts and other types of media on Nest Mini, LED lights will light up as your hand gets close to the device, indicating where you can tap to adjust the volume. Google has also improved Mini's ability to hear you in noisy environments.
And Nest Mini will dynamically adjust the volume of the Assistant, news and podcasts based on any background noise that may be happening at the time.
You can connect Nest Mini to your other Nest speakers to build a sound system for your whole home. If you have more than one Google or Nest smart speaker or display, create as many different groups as you'd like in the Google Home app, and enjoy music, podcasts and more throughout your home.
And with stream transfer, you can fill your home with sound by moving your music, audiobooks and podcasts from one speaker to another with just your voice. Even transfer music or podcasts from your phone when you walk in the door.
With new Google Duo functionality on all Google Home and Nest speakers, you can call your devices from the Google Home app, use the intercom feature to talk from device to device or even call someone on the other side of the world, for free—all you need is a Duo account and/or a Google Home or Nest smart speaker or display.
Nest Mini is smarter and faster than the original Mini. Google embedded a dedicated machine learning chip with up to one TeraOPS of processing power, which lets the company move some Google Assistant experiences from its data centers directly onto the device. In the U.S., Nest Mini can now learn your most common commands and process them locally for a much faster response time.
Nest Mini has the same design as the original Mini, with soft rounded edges. It comes in four colors: Chalk, Charcoal, Coral and a new color, Sky, which was inspired by Lake Como in Italy. Google has also incorporated wall mounting capabilities into Nest Mini.
The fabric covering on Nest Mini is made from 100 percent post-consumer recycled plastic bottles (meaning plastic bottles that have already been used and recycled). A single half-liter plastic bottle makes enough fabric to cover more than two Nest Mini devices. The external enclosure is also made from 35 percent post-consumer recycled plastic
You can buy Mini for $49, and starting today, you can pre-order from the Google Store. You'll find Nest Mini on shelves on October 22 at Best Buy, Target, Walmart and other retailers.
Meet the new Google Pixel Buds
On average, people check their smartphones almost 100 times a day, and more than half of those interactions—playing a song, setting a reminder or getting directions—are less than 30 seconds. Google Pixel Buds can help make those quick tasks easier and faster, with instant access to the Google Assistant. Plus, they deliver high-quality sound, and have a long battery life.
Pixel Buds have a low-profile look that sits flush in your ear. The stabilizer arc gently tucks in, and together with the interchangeable eartip, make Pixel Buds fit securely and comfortably.
Pixel Buds have a hybrid design that keeps you aware of the world around you, while still delivering powerful sound. The eartips seal the ear to isolate the loud outside noises, and to give high quality audio. The spatial vent underneath reduces that plugged-ear feeling, and lets through just the right amount of environmental sound so you can stay aware of the things around you. Pixel Buds also have Adaptive Sound, which dynamically adjusts the volume as you move from a quiet environment to a noisy one, so you don't have to constantly raise or lower the volume.
Two microphones in each earbud focus on the sound of your voice while suppressing other sounds in the background. Pixel Buds have a voice accelerometer that can detect speech through the vibrations of your jawbone, so that you can be heard even in windy conditions, like when you're running or biking.
Long-range Bluetooth connectivity lets you use Pixel Buds even when your phone isn't by your side. They'll stay connected three rooms away indoors or a football field-distance away outdoors. Pixel Buds pair easily with Bluetooth 4.0+ laptops, tablets and iOS devices. And with your Pixel phone and other Android 6.0+ devices, they pair with a single tap.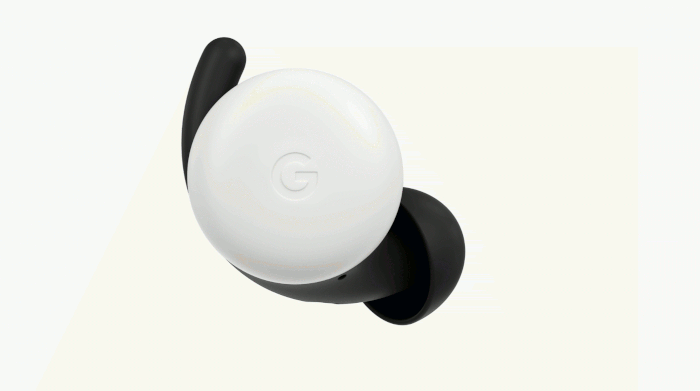 Pixel Buds automatically detect when they're in your ear and each earbud gives you handy touch controls: just tap to play or pause, and swipe to adjust volume. With Pixel Buds, you get 5 hours of listening time on a single charge, with up to 24 hours with the wireless charging case. They are sweat and water resistant.
Pixel Buds also give you hands-free access to the Google Assistant, so instead of turning to your phone for quick tasks, just say "Hey Google," and ask the Assistant for whatever you need—playing a podcast, sending a quick text, or translating a foreign language.
Google Pixel Buds will be available next year in the U.S. at $179, and will come in four colors: Clearly White, Oh So Orange, Quite Mint and Almost Black.
Stadia arrives on November 19
Google said that Stadia Founder's Edition will start arriving on gamers' doorsteps on November 19, 2019. If you were one of the first gamers who pre-ordered and have received your Founder's Editions, you'll be able to buy and play games beginning at 9AM PST/5PM BST/6PM CET on November 19. You can play Red Dead Redemption 2, Mortal Kombat 11, Kine, and more on your TV, laptop, desktop, and select tablets and phones.
Whether you ordered Stadia Founder's Edition or Premiere Edition, you'll have three months of Stadia Pro, with access to Destiny 2: The Collection. Using the included Chromecast Ultra and Stadia Controller, you'll be gaming in up to 4K HDR with 5.1 surround sound when playing on your TV.
Stadia Founder's Editions and Stadia Premiere Editions will begin shipping in the same order that pre-orders were received. You'll get an email when your package ships, and soon after, will receive a code to activate your Stadia account and Stadia Pro.
Pixelbook Go

Back in 2017 Google introduced Pixelbook, a high-performance Chromebook. And now Google is making it available to even more people with Pixelbook Go. At barely two pounds and 13 mm thin, it's easy to bring Pixelbook Go wherever life takes you. And with its starting price of $649, it still has all the features you love about Pixelbook. You'll get backlit keys and powerful processors to handle any workload, with an even bigger battery and 13.3 inch touchscreen. It comes in two colors, Just Black and Not Pink.
The device features a sleek matte finish. That magnesium casing keeps Pixelbook Go as light as possible while still feeling solid.
It has up to 12 hours of battery life and you'll get two hours of battery on just 20 minutes of charging.
Pixelbook Go starts up in seconds and stays fast with automatic updates. And with built-in security on Chrome OS, Pixelbook Go is both fast and secure.
Pixelbook Go pre-orders start today in the U.S. and Canada, and in January in the U.K. Learn more at the Google Store.
Boost your home's signal and style with Nest Wifi
Google also announced Nest Wifi, a powerful router and a Wifi point that includes the Google Assistant.
The Nest Wifi system is actually two separate devices: The Nest Wifi router plugs directly into your modem, forming the basis for a home network, and the Nest Wifi point expands your coverage where you need it most.
Nest Wifi is more powerful than Google Wifi, delivering up to two times the speed and up to 25 percent better coverage. A two pack can deliver coverage for a 3,800-square-foot home. The system is scalable, so you can add more points later (or buy a three pack to start with) to make sure you're covered. And if you've already got a Google Wifi network, you can easily add Nest Wifi to it for additional coverage.
Setting up Nest Wifi is easy. Plug it in and download and open the Google Home app, which will guide you through setup in minutes. Once you're set up, you can manage your network in the app alongside your other supported connected devices.
The app makes it easy to share your Wi-Fi password with guests, prioritize devices (like when you're on a video call), test the speed of your network, set up a guest network or change your password. Plus, if you have a Nest smart display like the Nest Hub Max, you can share the guest network and password right on the display—and scan the code with your phone to get online.
You can also manage separate homes in the app.
The Nest Wifi point also has a speaker with the Google Assistant, which means it can do everything that Nest Mini can do; it's really two devices in one. Google has even incorporated the same speaker as Nest Mini, so you can add it to a speaker group and rock out to your favorite playlist throughout the house.
Nest Wifi has a beautiful design with soft, rounded edges and unobtrusive lighting. It's meant to be placed out in the open, where it'll perform at its best. And Nest Wifi points come in three colors, Snow, Sand and Mist.
The router enclosure is made from 45 percent post-consumer recycled plastic, and the point enclosure is made from 40 percent post-consumer recycled plastic.
Google also built the Nest Wifi system to provide the foundation for your future smart home devices. It has local home connectivity, which means that some devices can connect directly to the system without needing a hub, so you can set up the most popular lights and plugs right from the Home app. Google will also enable Thread capabilities in the coming months to deliver secure connectivity for smart home devices like door and motion sensors, door locks and more. You'll start seeing these devices roll out from Google's partners in 2020.
Nest Wifi will be available in eight global markets in 2019. In the U.S., you can preorder today and Nest Wifi will be on sale on November 4. You can get a two pack with one router and one point for $269, or a three pack with one router and two points for $349 at the Google Store, Target, Best Buy and more retailers.
New Nest Aware
Google wants to make it easier for you to stay up to date about what's happening in your home, giving you peace of mind wherever the day takes you. For the last few years, Google has been delivering on that goal through the Nest Aware service, which, combined with the Nest Cams, provides intelligent alerts and camera history. Today Google announced the new Nest Aware, which will soon offer whole home awareness across more of your Nest devices at one monthly rate.
Google is introducing a simple whole home pricing model. Instead of paying separately for each camera, the new Nest Aware will include all cameras, speakers and displays in your home for one low price, with even more video and event history.
Google is also introducing event-based recording, a new service built into both Nest Aware plans that starts recording only when your camera detects motion or sounds, like a dog barking or a person seen on camera, and sends you an alert so you can take action or watch the event clips at a later time. This new service will be offered alongside our existing 24/7 continuous video recording, where you can scan through your entire video history to see everything before, during, and after an event.
You can choose from two plans: Nest Aware, with 30 days of event video history, at $6 per month, or Nest Aware Plus, with 60 days of event video history and 10 days of 24/7 video history, at $12 per month.
Nest Aware coverage is expanding to include Nest and Google Home speakers and displays. Now you can enable these devices to be your ears when you're away. They'll listen for critical sounds, like smoke or carbon monoxide alarms, and send an alert to your phone. You then have the option to hear the audio clip or listen live to confirm the alarm.
Google says that sound detection happens entirely on your device, and your Nest devices will light up to provide a visual indicator when an event is being recorded and sent to Google so you can review it. You can also review and delete audio clips at any time in your Home app.
If a speaker or display picks up a smoke alarm sound and sends an alert on your phone, now with Nest Aware the Home app will allow you to call the 911 emergency services closest to your home, even if you're far away. If you just dial 911 directly from your phone when you're away, you might get connected to a call center that can't dispatch to where you live.
If you happen to be home and can't get to your phone right away, say, "OK Google, call 9-1-1" to any Google Nest or Home speaker or display covered by your Nest Aware subscription.
Early next year, Google is launching the Home Feed in the Google Home app. It brings together all the events and notifications from your devices, with a general recap of the day and recent events in your home in one place. You can scroll through your prioritized events, watch full video clips or listen to audio clips—and always have peace of mind.
The new Nest Aware is coming early next year to the 19 countries where Nest Aware is currently available, and it will be easy to switch over your existing plans. Expanded coverage to Nest speakers and displays with sound detection and emergency calling will initially be available in the U.S. only.