Microsoft Introduces Surface Go 2, Surface Book 3, Surface Headphones 2 and Surface Earbuds
Microsoft today announced many new Surface devices and accessories designed to help you work, learn, connect and play from anywhere.
Available for preorder today, the new devices are the Surface Go 2, Surface Book 3, Surface Headphones 2,and the Surface Earbuds.
Surface Go 2
Surface Go 2 keeps the same thin, lightweight design of the Surface Go, but now offers a larger 10.5-inch PixelSense display, improved battery life and a model with up to 64% faster performance than the original with 8th Generation Intel Core M options for the first time.
The base Surface Go 2 comes with a dual-core Intel Pentium Gold 4425Y processor, 4GB of DDR3 RAM, and 64GB of eMMC storage. You also get the option to upgrade to an 8th-gen Intel Core m3 chip and to 8GB of RAM and 128GB of SSD storage as well.
The device comes with a basic USB-C port, Surface Connect port, microSDXC card reader (which can now hold up to 1TB of extra storage), and a headphone jack. There's support for Wi-Fi 6 and Bluetooth 5, and there'll once again be a configuration with LTE Advanced connectivity for those who want to use this on the road.
Microsoft has added Studio Mics, the company's dual microphone solution, to increase voice clarity and reduce background noise for Teams meetings or video chats, and a 5MP front-facing camera. The company has also added the new Camera app for the rear-facing camera to make it easy to scan documents and whiteboards – whether you're sharing notes from a meeting or turning in homework. Paired with Surface Pen, Surface Go 2 allows distance learners and remote workers to stay digital, while unlocking the power of natural ink for things like drawing diagrams, marking up documents or working through math equations.
You can personalize your Surface Go with Type Covers, Sleeves and accessories in a variety of colors, including Platinum, Black, Poppy Red, and Ice Blue.
The Surface Go 2 ships with "Windows 10 in S Mode," a slightly gimped version of Windows 10 that only lets you install apps from the Microsoft Store.
The Surface Go 2 starts shipping on May 12, with the base model available for $399.99 and the highest-end, non-LTE option available for $629.99. However, you'll still need to buy a $100 Type Cover keyboard separately to really maximize its potential.
Surface Book 3
Surface Book 3 is Microsoft's most powerful laptop ever, providing up to 50% more performance than Surface Book 2 and up to 17.5 hours of battery life. Available in sizes of 13-inch or 15-inch, Surface Book 3 has high-DPI PixelSense Display, precise trackpad, comfortable keyboard and the performance of 10th Generation Intel Core processors and choice of discrete NVIDIA GeForce GTX or Quadro RTX GPUs.
The new models have the exact same dimensions (23mm thick in laptop mode) and weight (3.38-4.2 lbs.) as before, and the display resolutions are the same (3000×2000 for the 13.5-inch model, 3240×2160 for the 15-inch one).
You get the choice of a quad-core Core i5-1035G7 or a quad-core Core i7-1065G7 with the 13.5-inch model, while the 15-inch Surface Book 3 comes with the latter by default. You can now pair those Intel processors with up to 32GB of LPDDR4x RAM, a step up from the 16GB LPDDR3 maximum of the Surface Book 2. The 15-inch model comes with 16GB of RAM by default.
The 13.5-inch model now comes with an Nvidia GeForce GTX 1650 Max-Q GPU with 4GB of GDDR5 memory in its Core i7 variant, while the 15-inch unit features a GTX 1660 Ti Max-Q with 6GB of GDDR6 memory. Microsoft will also offer 15-inch configurations with an Nvidia Quadro RTX 3000 Max-Q GPU—which is better suited for graphics-intensive design work—but only through its commercial channels.
There's also o USB-C port, which has gone from USB 3.1 Gen 1 to USB 3.1 Gen 2, but still you won't be able to connect an external GPU down the road or take advantage of the much higher bandwidth Thunderbolt 3 provides.
The rest of the I/O consists of two USB-A 3.1 Gen 2 ports, two Surface Connect ports, an SDXC card reader, and a headphone jack. Elsewhere, there's built-in support for WiFi 6 and Bluetooth 5, the same 1080p front- and rear-facing cameras found on the Surface Book 2, and stronger power supplies in the box (65W for the base 13.5-inch version, 127W for the 15-inch SKUs). Battery life is now rated at 15.5 hours for the 13.5-inch model and 17.5 hours for the 15-inch model.
The base 13.5-inch Surface Book 3 starts at $1,599.99 and scales up to $2,699, while the 15-incher starts at $2,299.99 and can be configured up to a unit with a 2TB SSD for $3,399.99. It'll start shipping on May 21.
Surface Headphones 2
Surface Headphones 2 are designed to slip over your ears and surround you with sound, including 13 levels of ambient noise control. Microsoft says it improved sound quality and battery life, bringing you up to 20 hours of clear sound. The active noise cancellation is adjustable through on-ear dials and specifically tuned to either block out or amplify human voices. This comes in handy when you are trying to work from home with roommates, kids, significant others or pets. They also now support the aptX Bluetooth audio codec.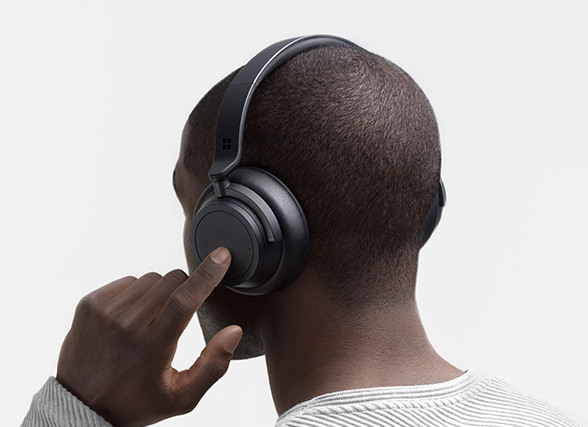 Microsoft also updated the ear cup design to rotate 180 degrees for greater comfort when wearing around your neck, and added a Black finish option in addition to the classic Platinum.
Microsoft lists the same specs for frequency response, noise-cancelling strength, and internal speakers.
Surface Headphones 2 are priced at $249 and will be available starting May 12.
Surface Earbuds
Featuring a comfortable and stable fit, Surface Earbuds offer touch controls so you can start a phone call or change the song without taking out your phone. Microsoft says consumers will experience rich Omnisonic sound and they will be able to instantly play Spotify from their Android phones with a triple tap on either earbud.
Screen-free integration with Microsoft 365 lets you catch up on emails with Play My Emails in the Outlook Mobile App for iOS or allow you to dictate in Word, Outlook or PowerPoint.
The earbuds come with a wireless charging case and offer an all-day battery life.
They're rated at up to 24 hours of juice with an included charging case (which itself charges over USB-C). They support aptX, too, and sport an IPX4 water-resistance rating. Each earbud has two built-in microphones.
Surface Earbuds are priced at $199 and will be available starting May 12.
Surface Dock 2
The ability to connect to monitors, accessories and additional storage can help you set up a greater workspace. Surface Dock 2 helps you expand your workspace with a simple magnetic click and delivers faster charging, higher data transfer rates and enterprise management tools.
The Surface Dock 2 is a USB-C dock that connects to newer Surface devices through the proprietary Surface Connect port and adds four USB-C ports, two USB-A 3.2 ports, and a Gigabit Ethernet jack for $259.99. It'll start shipping on May 26.
Microsoft also announced a new multi-port Microsoft USB-C Travel Hub to give you more ways to connect to networks, displays and USB-C accessories when you're on the go. It comes with a USB-C 3.1 Gen 2 port, a USB-A 3.2 Gen 2 port, a Gigabit Ethernet jack, and HDMI 2.0 and VGA connectors. Microsoft says that'll arrive sometime this month and cost $99.99.
PC Accessories
Microsoft is also introducing two new Microsoft accessories bundles for the office. The Microsoft Ergonomic Desktop reduces fatigue and delivers comfort and control with a split keyboard design featuring a cushioned palm rest and an ultra-precise mouse with cushioned thumb rest.
The Microsoft Bluetooth Desktop gives you a full-sized keyset in a slim design and a compact mouse that fits in your hand.
The Microsoft Ergonomic Desktop is priced at $89.99 and the Microsoft Bluetooth Desktop is priced at $59.99.