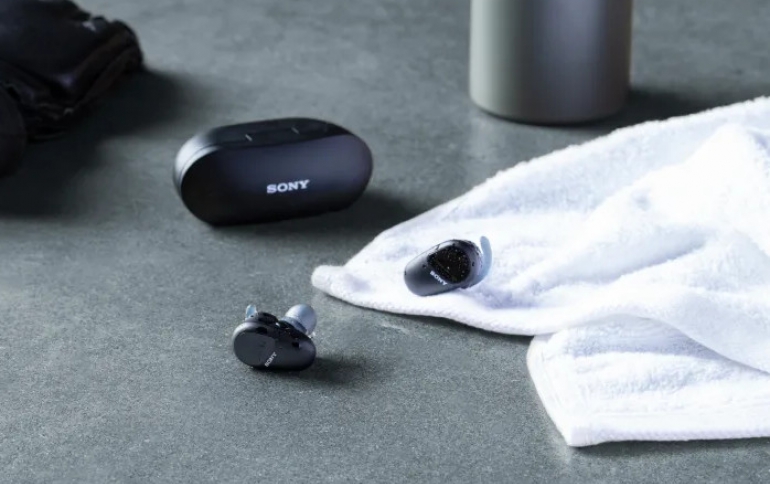 Sony's Wireless Headphones WF-SP800N and WF-XB700 Launch in Europe
Sony today introduced the WF-SP800N truly wireless headphones, providing the hassle-free headphones to keep up with an active lifestyle.
Sony also recently announced the WF-XB700 model in its wireless line up.
Designed for an active lifestyle with an IP55 rating means that splashes, sweat and dust won't stop the WF-SP800N water-resistant headphones or your workout. You can even wash them after a tough training session.
The soft-cushioned arc supporter and three-dimensional curved design ensure a secure, comfortable fit.
Plus, you won't be slowed down with limited battery power. The compact charging case not only protects your WF-SP800N, it also lets you power up on the go. Holding a single further full charge, the case lets you enjoy up to 18 hours of music playback with noise cancelling switched on and up to 26 hours without. If you're in a hurry, 10 minutes quick charging gives you up to 60 minutes of music playback. Thanks to a Bluetooth chip borrowed from the WF-1000XM3 truly wireless headphones coupled with an optimised antenna design, the earphones ensure a stable connection with outstanding listening.
The WF-SP800N features the latest noise cancelling technology to block out distractions like the sounds of the street or those in the gym, so it's just you and the beat.
With the free of charge "Sony | Headphones Connect" companion app, you can customise your sound experience to your desired taste. The equalizer feature on the app enables you to customise the sound level to suit your music and activities. Whether creating a relaxed listening experiences on your commute to work or boosting bass to power your workout, the possibilities are endless.
The WF-SP800N let you enjoy 360 Reality Audio, an audio experience utilising object-based spatial audio technology when combined with an Android smartphone/iPhone that has a participating streaming services app installed.
Ambient Sound Mode on the WF-SP800N lets you control the sounds that you want to let in. You can also customise the ambient sound settings to your preference using the "Sony | Headphones Connect" companion app from level 0 to level 20.
The WF-SP800N now also features Advanced Adaptive Sound Control that automatically detects what you're doing and where you are then adjusts ambient sound settings to suit your environment. You can even customise the settings as you wish using the "Sony | Headphones Connect" app.
Smart control technology enables you to play, stop or skip through your music and adjust the volume by placing your finger over the right earbud. Turn down the music to hear around you by placing your finger on the left earbud. The quick attention feature turns the volume right down and lets in the ambient sound. Instantly chat with someone without removing your earbuds.
You can also manage your day with Google Assistant and Amazon Alexa.
In addition, wearing detection automatically detects when you take the earbuds out. Pause your music instantly when you take one of the earbuds out and the music will automatically resume when you place the earbud back in again.
Sony also recently introduced the wireless WF-XB700 headphones. With Sony's EXTRA BASS technology, these headphones create punchy rhythms that lift every track and maintain vocal clarity.
BLUETOOTH wireless technology removes the need for wired connections for ease of use while the Ergonomic Tri-hold structure creates a comfortable fit.
Enjoy up to 18 hours of listening thanks to the handy charging case and, if you're in a hurry, 10 minutes quick charging gives you up to 60 minutes of music playback.
An IPX4 rating and water resistance means protection against splashes and sweat.
The WF-SP800N model will be priced at approximately €180/£150 and available from July 2020 in black, white, orange and blue.
The WF-XB700 model are priced at approximately €150/£120 and available now across Europe in black and blue.