1. Introduction
- Introduction
Despite the fact that most currently sold laptops include a 5400 rpm HDD, many still come with a lower performing 4200rpm drive. Since the hard disk is one of the major components where speed and overall performance are concerned, upgrading to a faster drive very often becomes a necessity.
Most of the well known HDD manufacturers offer 2.5" 5400 rpm drives, but after searching through users opinions and other online reviews, we decided to give the Seagate 5400 100GB drive a test run. The drive can be used either as an external backup device or as an upgrade to a currently installed, slower drive in a laptop. In this review, we will examine the drive's features along with its reading and writing performance.
- Seagate ST9100824A
The reasons that led us to opt for a Seagate 2.5" drive over those from one of the other well known manufacturers, are:
Seagate offers a 5 year warranty
According to several opinions, Seagate HDDs offer high speed with low operating temperatures
Seagate currently offers both IDE and SATA 2.5" HDD drives. For our tests, we used a Momentus 5400.2 drive with 100GB capacity.
As Seagate claims: "...Seagate Momentus 5400.2 enables the freedom of mobility and enhanced productivity with 5400-RPM performance. Users experience almost 50 percent more performance compared to 4200-RPM drives, but low power consumption enables users to work longer..."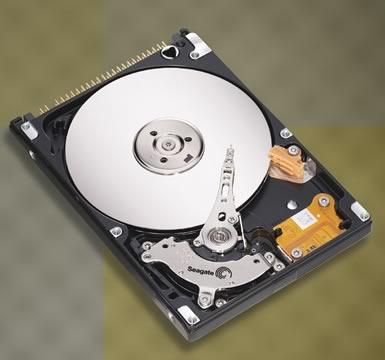 Model Number:ST9100824A
Capacity:100 GB
Speed:5400 rpm
Seek time:12.5 ms avg
Interface:Ultra ATA/100
Features
Benefits
SoftSonic FDB motor

Delivers inaudible operating acoustics

QuietStep ramp load technology

Enables whisper-quiet load/unload acoustics and 900 G's of non-operating shock tolerance

8-Mbyte cache buffer

Optimizes performance so applications run fast and smooth

5400-RPM spin speed

Provides almost 50 percent more performance for notebook computers while maintaining battery longevity


Distinctions

4200-like power consumption for maximum battery life
Whisper-quiet load/unload acoustics
Operating shock of 250 Gs to withstand rugged notebook environment
- Features
Seagate Momentus 5400.2 series provides the following key features:
• 5,400-RPM spindle speed and 8-Mbyte buffer combine for superior performance.
• Quiet operation. Fluid Dynamic Bearing (FDB) motor.
• High instantaneous (burst) data transfer rates (up to 100 Mbytes per second) using Ultra DMA mode 5.
• Giant magneto-resistive (GMR) recording heads and EPRML technology, which provide the drives with
increased areal density.
• State-of-the-art cache and on-the-fly error-correction algorithms.
• Full-track multiple-sector transfer capability without local processor intervention.
• 800 Gs non-operating shock and 250 Gs operating shock.
• SeaTools diagnostic software performs a drive self-test that eliminates unnecessary drive returns.
• The 3D Defense System, which includes Drive Defense, Data Defense, and Diagnostic Defense,
• Support for S.M.A.R.T. drive monitoring and reporting.
• Support for Read Multiple and Write Multiple commands.
• Support for auto-detection of master/slave drives that use cable select (CSEL).