2. The device
The 80plus.org certified product retails for around €60, as found over online stores.
While there is not any Nvidia certification for SLI use, we used the power supply with two Nvidia 7900GS graphics cards and we didn't witness any problem. However we cannot be sure about the newest and more power hungry 260/280GTX series.
Inside the box you will find everything well packaged and secured placed into a plastic foam shell that keeps the PSU in place.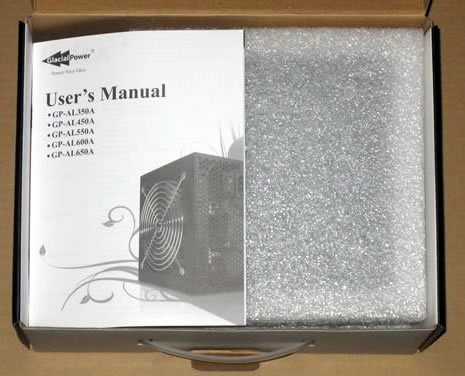 The PSU has the typical dimensions for this category and should fit in all PC cases. The product is certified for ATX v2.2 standard. At the top side you can see the 120mm rotating fan from ADDA.
.
The power supply has a matte black finish with smooth edges for easy handling. The rear side has a honeycomb design that allows hot air escape from the internal of the PSU's keeping temperature low.
The GlacialPower GP-AL650 has two +12V rails rated at 0-25 and 0-20Amps . Both rails are powered from a single source, which theoretically could have an affect in the power efficiency of the rails under heavy loads. However, the independent source designs are more expensive.
The +5V and +3.3V share the same rail as happens with the +12V. Summing all outputs we have a total of 650Watt. What is rather strange, is the fact that the +5Vsb rail has 15Watt, when usually we found 0.5A values. That's a positive thing since you can power your USB ports from that rail instead of the +5V, provided that your motherboard supports this function (via motherboard jumper).
Unpacking the various connectors we find many cables:
| Connectors Included | # | Overall Length |
| --- | --- | --- |
| ATX 24 pin & 20 pin compatible | x1 | 510mm |
| EPS/ATX12V 4+4 pin | x1 | 520mm |
| PCI-E 6+2 pin | x2 | 420mm |
| SATA | x6 | 720mm |
| 4 pin Peripheral | x6 | 640mm |
| Floppy | x1 | - |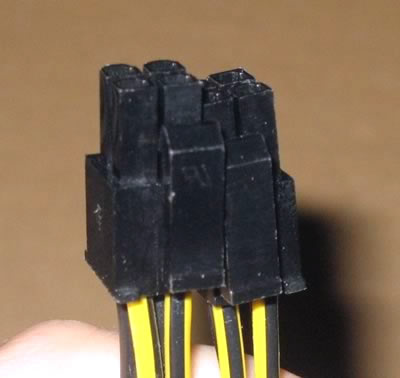 We should note here that we would like to see longer cables since with the latest motherboards and graphics cards, the length of the power cables is very important and long cables allows for easier connections. What we didn't like is the fact that the 4+4pins are not connected.
The 6+2 pin connectors for PCI-E cards should be enough even for the latest generation of graphics cards.