4. Final thoughts
The GlacialPower GP-AL650 is a new product that features good specifications and great retail price.
The retail package is simple and carries the certification from the 80Plus.org organization. All the power cables are fixed and there is no modular design. Most of them have good length, although we would like to see longer cables since they would allow for easier installation in new PCs.
The PSU is backed by a 2-year warranty is not very competitive to what some other brands are offering (OCZ, Corsair).
Our simple tests indicate that the PSU performs adequately, at least for the end-user's perspective. The product is not certified for SLI use but we tried loading it with two Nvidia 7900GS cards. The system was stable although our performance tests showed a high variation in the voltage at the +12V rail.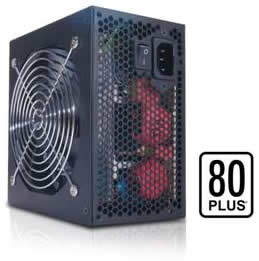 If your budget for a new PSU is around €60 and you are looking for stable operation for your mid-range PC, the GlacialPower GP-AL650 is a good suggestion. Unless your PC configuration includes power demanding high-end graphics cards, you won't face any major problems.
- The Good
650Watt output
Good build-quality
Very good retail price
+5Vsb capability 15 W
Active PFC design
ATX v2.2 certified
Plenty of connectors with good length
- The Bad
Only 2 years warranty
No Modular cable design
High variation at +12V rail when using SLI setup
If you are using a full tower, the cable length is not enough