1. About the GIGABYTE GV-R567OC-1G
ATI's 5xxx series of graphics cards has brought the DX11 as well as other technologies to the mainstream market. Affordably priced - and without any serious competition from Nvidia at least so far - the products have gained a market share. The Gigabyte HD5670OC is built on the ATI Radeon HD 5600 Series of GPUs, which utilizes the 627 million transistors on 40nm fabrication process and comes with GDDR5 memory on-board. The GIGABYTE GV-R567OC-1GI supports DirectX 11, ATI Stream technology, ATI CrossFireX multi-GPU, UVD 2 and PowerPlay technologies. GIGABYTE's GV-R5600 graphics cards are also featuring Gigabyte's Ultra Durable 2 technology and come with an HDMI port for HD gaming and Blu-ray movie playback.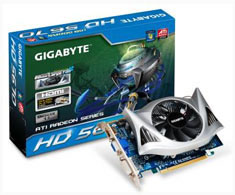 The GIGABYTE GV-R567OC-1GI features ATI's 2nd Generation TeraScale graphics engine, boasting the power of more than 620 GigaFLOPS with 400 stream processors. With 1GB of GDDR5 memory, the GV-R567OC-1GI provides twice the data per pin of GDDR3 memory at the same clock speeds. Utilizing ATI Stream Technology, end-user can unleash the parallel processing power of GPU for physics, artificial intelligence, stream computing and ray tracing calculations, and tackle demanding tasks like video transcoding at high speeds.

The GIGABYTE GV-R5600 Series support the interactive and efficient GPU-accelerated environment of Microsoft's Windows 7 operating system. A native HDMI output is delivering fully integrated support for deep color and 7.1 digital surround sounds. In addition, they are featured on golden plated HDMI connector to fulfill users' high definition audio and video needs simply through one cable.
The GIGABYTE GV-R5600 Series also implement GIGABYTE Ultra Durable 2 boards that guarantee efficient cooling, lowest power loss, and longer product life. Lower RDS (on) MOSFETs have lower power consumption during the switching process, resulting in less heat generated by the GPU. Ferrite Core chokes hold energy much longer than common iron-core chokes and lower ESR Solid Capacitors contribute to a more stable and reliable operation.
- Retail package
The Gigabyte HD5670 OC (GV-R567OC-1GI) comes in a small-sized retail box with a futuristic design and many logos indicating the product's main features. At the time this article was written, we found the product listed online for around ~€94 (including VAT) - well positioned against Nvidia's latest GT240 graphics cards..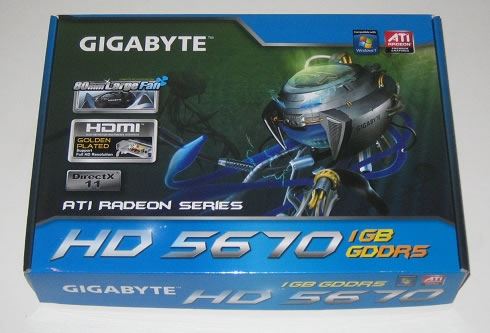 In the box we found the graphics card packaged into an anti-static bag, installation instructions, a printed manual and a driver CD-ROM:
The Gigabyte HD5670 OC has relatively small dimensions (18 x11 cm) and it is equipped Gigabyte's own cooling solution, skipping ATI's default GPU cooler: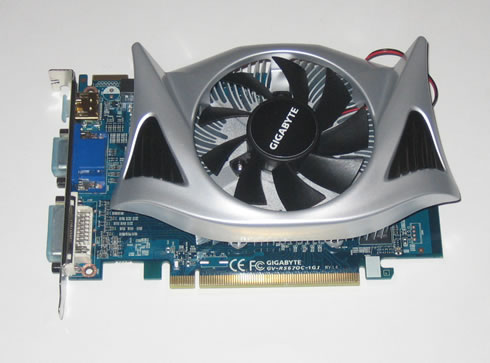 The card requires at least a 450 Watt PSU and not any external power besides the PCI-E:
The provided outputs include an HDMI port, a D-Sub15 port and a DVI-D port. Although the outputs panel of the card is slim, the installed cooler increases the overall volume of the card. As a result, we have to do with a 2-slot card here.
The product also supports AMD's Eyefinity Technology, which allows up to three monitors to be installed and therefore increase the visual experience.. More information can be found over here.
According to the GPU-Z utility, the card's GPU core runs at 850MHz and its memory is clocked at 1100MHz. Remember that the specific graphics card is pre-overclocked, meaning that it should perform better than ATI's reference HD5670 boards: