Fujifilm Develops Projector Featuring High-performance FUJINON Lens
FUJIFILM is entering the projector market with the development of the world's first projector equipped with high-performance, rotating FUJINON lens to project images in various directions without moving the main unit.
The company will release this product in 2019.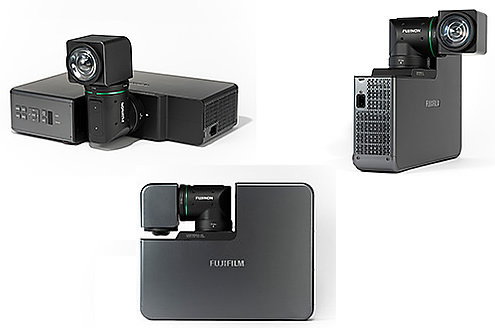 The new projector features the first "two-axial rotatable lens," newly designed with FUJINON lenses' optical technology. The lens can face up, down, front, rear, left and right to project images in various directions without having to move the main unit. This means it can project images not only on a wall or screen but also on the ceiling and floor, and can easily switch between vertical and horizontal display. Furthermore, the use of ultra-short throw lens and laser light source makes it possible to project bright and clear images on a 100-inch screen from a distance of just 75cm. The device can be placed horizontally or vertically. It features rounded corners and a compact body that turns into a box shape when the lens is folded in.