Crucial P1 NVMe 1TB SSD review
1. Crucial P1 M.2 1TB - QLC NAND for the masses
Micron's Crucial brand has recently released the consumer-oriented Crucial P1 M.2 SSD, an entry-level NVMe drive using Micron's latest 64-layer 3D QLC flash NAND flash memory and the Silicon Motion SM2263 controller.
The drive is powered by Micron's own firmware, meaning that any customizations would make it different in terms of performacne comapred to other SSDs based on QLC NAD and the same controller, such as the Intel 660p. It offers slightly more spare area available for garbage collection and SLC caching, compared to the Intel 660p SSD, and uses 1GB DRAM per 1TB NAND ratio as most MLC and TLC SSDs.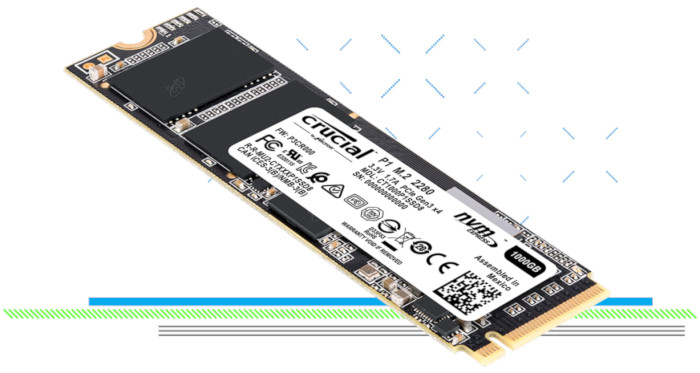 | | | | |
| --- | --- | --- | --- |
| Product | P1 500GB | P1 1000GB | P1 2000GB |
| Pricing | $109.99 | $229.99 | N/A |
| Capacity (User / Raw) | 500GB / 512GB | 1000GB / 1024GB | 2000GB / 2048GB |
| Form Factor | M.2 2280 S3 (Single-Sided) | M.2 2280 S3 (Single-Sided) | M.2 2280 D2 (Double-Sided) |
| Interface / Protocol | PCIe 3.0 x4 / NVMe 1.3 | PCIe 3.0 x4 / NVMe 1.3 | PCIe 3.0 x4 / NVMe 1.3 |
| Controller | Silicon Motion SM2263EN | Silicon Motion SM2263EN | Silicon Motion SM2263EN |
| DRAM | DDR3 - 512MB | DDR3 - 1GB | DDR3 - 2GB |
| NAND Flash | Micron 64L 3D QLC | Micron 64L 3D QLC | Micron 64L 3D QLC |
| Sequential Read | 1,900 MB/s | 2,000 MB/s | 2,000 MB/s |
| Sequential Write | 950 MB/s | 1,700 MB/s | 1,750 MB/s |
| Random Read QD1 | 90,000 IOPS | 170,000 IOPS | 250,000 IOPS |
| Random Write QD1 | 220,000 IOPS | 240,000 IOPS | 250,000 IOPS |
| Encryption | N/A | N/A | N/A |
| Endurance | 100 TBW | 200 TBW | 400 TBW |
| Warranty | 5-Years | 5-Years | 5-Years |
The P1 series delivers up to 2/1.75GB/s of sequential read/write throughput and up to 250,000/250,000 random read/write IOPS. As listed above, performance varies based upon the capacity of the drive. To achieve these speeds, the P1 uses Crucial's Hybrid-Dynamic Write Acceleration technology.
The drive has a fixed SLC buffer capacity of 5GB on the 500GB drive and 12GB on the 1TB model. In addition to the fixed buffer, the drive has a dynamic buffer that expands or contracts based upon the amount of data stored on the drive. This buffer consumes up to 14% of the usable capacity.
This means that all the data written to the Crucial P1 hits the SLC cache first, and is compacted into QLC blocks only when the drive's free space starts running low. So you can expect to see the drive to use more GB of SLC when it is empty, and much less when it fills up.
The P1 supports the NVMe low power states, so active power consumption is rated at just 100mW and stretches up to a maximum of 8W. It also has an impressive 80mW idle power consumption rating. The P1 also features power loss protection for data-at-rest and has a multi-step data integrity algorithm that protects against data loss. Crucial's Adaptive Thermal Protection protects the components from overheating, and the RAIN (Redundant Array of Independent NAND) feature provides device-level data redundancy as a further layer of protection.
The Crucial P1 is rated write endurance is 0.1 drive writes per day, which is low even for an entry-level consumer SSD. Obviously, the P1 is not intended to be the workhorse of an enthusiast system with a write-heavy workload, but for more typical read-oriented workloads it should offer better performance than SATA SSDs.
In terms pricing, the Crucial P1 matches the price of the Intel 660p, and is more affordable than value-centric NVMe drives like the ADATA SX8200. Crucial's MSRP is $109.99 for the 500GB model and $170 for the 1TB model. The 2TB model will be launching slightly later due to using DDR4 DRAM instead of the DDR3 used by the 500GB and 1TB models.
Today we are testing the 1TB Crucial P1, and compare it with the Adata XPG SX8200 480GB SSD and two older NVMe drives, the Samsung 950 PRO 512GB and the Toshiba OCZ RD400 512GB.