Crucial MX100 512GB SSD review
2. Package, installation
The Crucial MX100 retail package of the 512GB version of the drive we will test today is shown below:
The drive is packaged in a standard 2.5-inch 7mm z-height enclosure.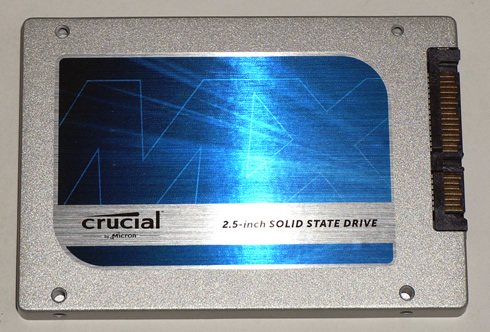 To deal with NAND error rates and defects, which are more prevalent at 16nm, Crucial used the RAIN (Redundant Array of Independent NAND) support to the MX100. But in order to save space for RAIN, Crucial is allocating almost 14% of the NAND area, used to curb failure due to NAND defects.
As we previously mentioned, the Crucial MX100 utilizes 128Gbit per die NAND. That allowed Crucial to go higher than 512GB without sacrificing performance but also meant a hit in performance at the smaller capacities.
The drive came with firmware Ver. MU01 installed and as you see below, the available capacity for the user is 488.386 MB (512GB drive). The difference is mostly the conversion of GB to GiB plus a bit of space set aside for over provisioning that the controller uses to maintain the drive over time in an effort to mitigate performance degradation.
The readout on CrystalDiskInfo shows that both NCQ and S.M.A.R.T. are enabled, as well as TRIM and the interface is confirmed at SATA 6Gbps: