Crucial M500 480GB SSD review
8. Anvil Pro
The next benchmark is the Anvil Pro, an 'all inclusive' storage utility. The software is tests transfer speeds as well as IOPS The IOPS tests can be configurable with preset testing scenarios for read (Seq 4MB, 4K, 4K QD4, 4K QD16, 32K and 128K), write (Seq 4MB, 4K, 4K QD4, 4K QD16) and mixed IO.
We used the software with the Vertex 4 128GB SSD and tested the drive with 0-fill compression (RAW), 8% compression, 25% compression, 45% compression, 67% compression and finally 100 % (incompressible data). Below are the results with 0-fill compression as well as with incompressible files.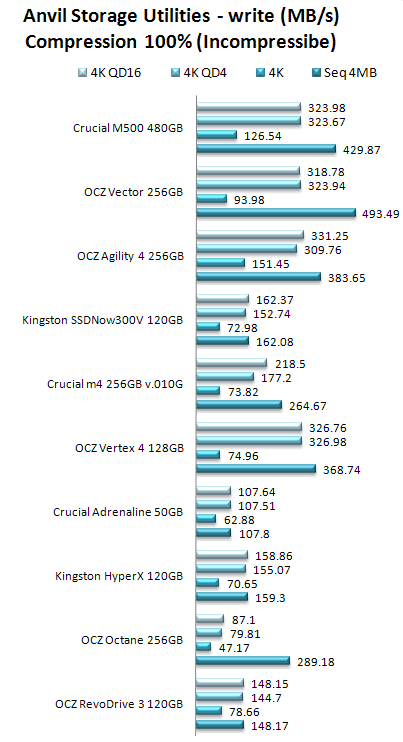 The M500 480GB is much faster when compared to the m4 256GB,. At higher queue depths the M500 does really well and is comparable to the OCZ Vector 512GB.