Crucial M500 480GB SSD review
1. Features, specs
Today we have in our labs the latest SSD offering by Crucial, the Crucial M500 series. Announced earlier this year at CES, it is the world's first SSD series to use Micron's new 128Gbit MLC NAND die. The move to 20nm MLC NAND with a larger 128Gbit die decreases the number of die/devices needed to hit each capacity point, and it also makes 1TB SSDs cost effective. This allows Crucial to offer a 960GB version of the drive - also available in 120/256/480GB versions - for as low as $599. That's around $0.62 per GB.
Besides Micron's 20nm multi-level cell (MLC) NAND flash memory technology, the new series uses the the Marvell 88SS9187 SATA 6Gb/s controller that's fueled by Crucial's own custom firmware. Marvell's 9187 controller supports DDR3 memory.
The 128Gbit implementation of Micron's 20nm process also brings support for ONFI 3.0, which offers a maximum interface speed of 400MB/s.
Crucial promises an improved performance across the board, no matter what kind of files you're working with on a Crucial SSD. This means that we should expect consistent speeds with no drop in performance across different file types and regardless of whether they're compressed or uncompressed.
The Crucial M500 also delivers hardware-based encryption. The SSD features 256-bit AES encryption engine and all data written to the drive is stored encrypted. By default you don't need to supply a password to access the data, the key is just stored in the controller and everything is encrypted/decrypted on the fly. Setting an ATA password you'll force the generation of a new key and that'll ensure no one gets access to your data.
In order to make this password more secure, the M500's firmware is TCG Opal 2.0 and IEEE-1667 compliant. The TCG Opal support lets you leverage third party encryption tools to more securely lock down your system. Both these compliances also make the M500 compatible with Microsoft's eDrive standard. This means the M500 possibly the first drive that can be used to enable the BitLocker under Windows 8.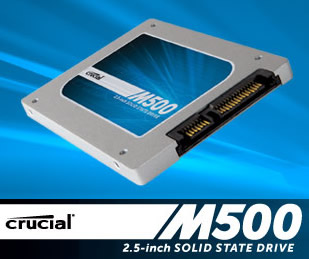 Capacity (Unformatted)
120GB
240GB
480GB
960GB
Interface
SATA 6Gb/s (SATA 3GB/s compatible)
SATA 6Gb/s (SATA 3GB/s compatible)
SATA 6Gb/s (SATA 3GB/s compatible)
SATA 6Gb/s (SATA 3GB/s compatible)
Sustained Sequential Read up to (128k transfer)
500MB/s
500MB/s
500MB/s
500MB/s
Sustained Sequential Write up to (128k transfer)
130MB/s
250MB/s
400MB/s
400MB/s
Random Read up to (4k transfer)
62,000 IOPS
72,000 IOPS
80,000 IOPS
80,000 IOPS
Random Write up to (4k transfer)
35,000 IOPS
60,000 IOPS
80,000 IOPS
80,000 IOPS
Form Factor

2.5-inch m-SATA

- Dimensions: 100.5 mm x 69.85 mm
- Thickness: 7 mm (9.5mm with adapter)
- Weight: Up to 70 grams

2.5-inch
NAND
20nm Micron MLC NND
Life Expectancy
1.2 million hours mean time to failure (MTTF)
Warranty
Limited three year warranty
Endurance

72TB total bytes written (TBW), equal to 40GB per day for 5 years

Shock (operating and non-operating) - 1,500 G/1.0 msec
Vibration (operating) - 5—800Hz at 3.13G

Operating Temperature
0°C to 70°C
Compliance
RoHS, CE, FCC, UL, BSMI, C-TICK, KCC RRL, W.E.E.E., TUV VCCI, IC
Firmware
FIeld upgradable firmware
Self-encrypting drive (SED)

- TCG Opal 2.0-compliant firmware
- Hardware-based AES 256-bit encryption engine
Product Health Monitoring
Self-Monitoring, Analysis and Reporting Technology (SMART) commands