7. Performance
We should not expect anything extraordinary out of Crossfire, in terms of performance. MultiGPU is of course limited at around 200% performance of a single card and both Crossfire and SLI have reported results close to that limit. However, it will be more than interesting to see how cards with different cores and clock frequencies behave under the Crossfire architecture.
Crossfire VS Single GPU
Apart from the released by ATI charts, you can see below comparisons of Crossfire and SLI performance, while only leaks of 3DMark03 and 3DMark05 scores are available around the web. These confirm that the crossfired X850XT gets a higher 3DMark05 score but can't beat SLI in 3DMark03, which indeed does not appear in ATI's released performance charts.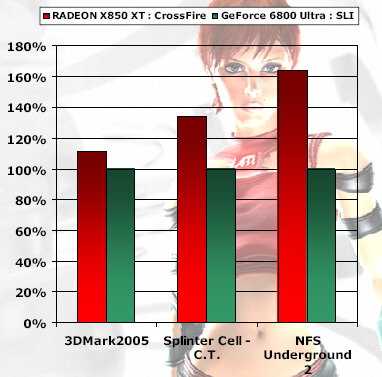 Crossfire VS SLI