Crossbar Demonstrates Breakthrough Resistive RRAM at IEDM 2014
Start-up company Crossbar announced today at IEEE International Electron Devices Meeting (IEDM) a breakthrough in 3D RRAM architecture that could allow the development of a 1TB RRAM memory chips that have the size of a postage stamp. Presented by Dr. Sung Hyun Jo, Crossbar senior fellow, the presentation discussed how to overcome a common design challenge in high-density RRAM development, and described how a Field Assisted Superlinear Threshold (FAST) selector device can successfully suppress the sneak path current inherent in RRAM memory, another milestone needed to commercialize RRAM memory for high-density data applications.
Reading cells reliably in a high-density 3D matrix isn't easy due to current leakage between the closely-packed cells. That's the problem that Crossbar is saying it solved. The Field Assisted Superlinear Threshold (FAST) Selector suppresses sneak currents while it is implemented as a passive crossbar array, a relatively simple structure to fabricate.
Crossbar RRAM technology is based on filamentary nanoparticles while using simple CMOS compatible materials. Each cell is located at the crossbar junction of metal layers and it scales down to at minimum 5nm nodes. The cell is manufactured at low temperatures and is built between interconnecting metal layers.
A Crossbar cell is stackable, therefore, providing high density 3D arrays without occupying additional silicon area.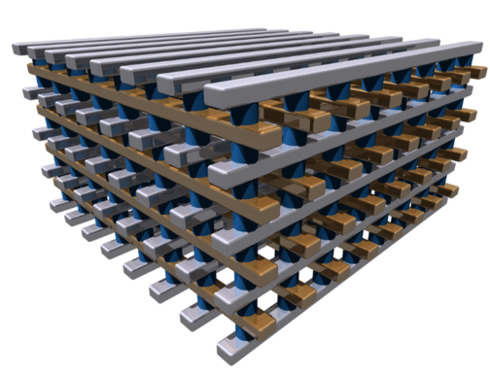 Crossbar's RRAM technology is 20 times faster than NAND flash in reads and writes, while using 1/20th the energy. The company has 3D scalability with their "1TnR" (1 Transistor driving n Resistive memory cells) technology, where a single transistor can drive hundreds of memory cells.
RRAM's lower energy requirement and 3D density will make it a natural for phones, phablets and notebooks, as well as power-constrained sensors.
The company first unveiled its RRAM technology in August 2013 and then demonstrated pre-production 1MB arrays using its "1TnR" technology for read/write operations in June 2014.
Crossbar expects some of its 3D Restive RAM (3D RRAM) products to be out in 2016 as memory in wearable devices, with high-density storage devices like solid-state drives arriving within 18 months after that.