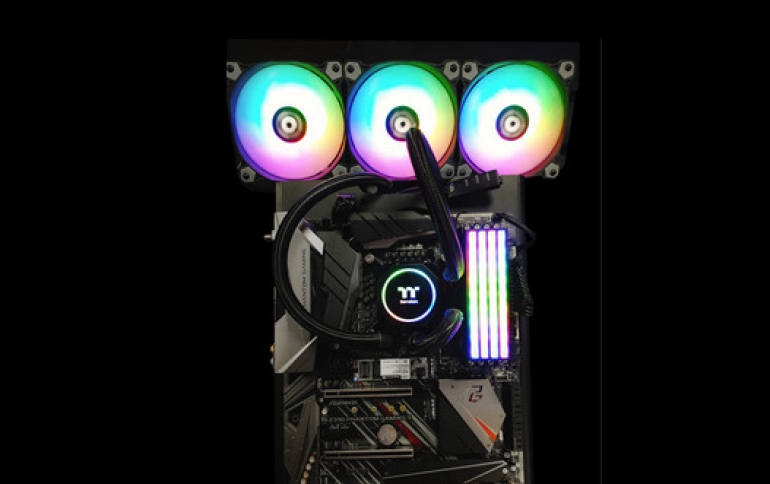 CES: Thermaltake Showcases Liquid All In One CPU and RAM Cooler Kit
Thermaltake released the Floe RC360 / RC240 ARGB all in one liquid CPU & RAM cooler kit, the first in the industry to combine RAM with AIO liquid cooling, which is compatible with Thermaltake memory modules.
Floe RC360 / RC240 ARGB all in one liquid CPU & RAM cooler kit allows users to maximize their overclocking performance, granting users the ability to equip an all-in-one cooling system including a water block, radiator, an ARGB controller, 3 airflow 120mm fans on the RC360 version and 2 airflow 120mm fans on the RC240 version.
The Floe RC360/RC240 can be synchronized with ASUS Aura Sync, GIGABYTE RGB Fusion, MSI Mystic Light Sync, Biostar VIVID LED DJ and ASRock Polychrome, which supports motherboards equipped with 5V addressable RGB headers, allowing users to control the lights directly from the RGB lighting software.
Floe RC360 / RC240 is equipped with Thermaltake's 120mm ARGB Sync Radiator Fan. It features compression blades, hydraulic bearings, and a 16.8 million color LED ring with 9 addressable LEDs that are ready to sync with 5V RGB capable motherboards.
The kit features a high performance copper base plate and its pre-filled coolant reduces any hassle for liquid replenishment. Additionally, the sleeved cable delivers durability and prevents the tubing from any damage.
Floe RC360/RC240 is compatible with Thermaltake RC DDR4 Memory Modules – Thermaltake says that these modules feature the same quality that you expect from the TOUGHRAM Memory line. Launching in frequencies of 3,200MHz, 3,600MHz, 4,000MHz and 4,400MHz in kits of 8GBx4 modules, you'll be sure to find a configuration to fit your custom PC allowing installation capacity of up to 32GB on mainstream 4-DIMM slots.
Thermaltake Floe RC360 / RC240 ARGB all in one liquid CPU & RAM cooler kits will be available for purchase in Q1 2020 via the Thermaltake worldwide network of authorized retailers and distributors. They are backed by a two-year warranty.
Riing Quad 120mm and 140mm RGB Radiator Fans with NeonMaker Light Editing Software
Thermaltake also announced Riing Quad 12 RGB Radiator Fan and Riing Quad 14 RGB Radiator Fan, the first 16.8 million 4-ring design radiator fan with 54 addressable RGB LEDs.
With a 9-Blade High-Airflow design, the Riing Quad utilizes 120mm and 140mm high-static pressure blade design, hydraulic bearing and a PWM controlled motor promise to deliver remarkable acoustic and cooling performance to elevate the aesthetics of custom PC build.
The NeonMaker Light Editing Software allows users choose from over 200 different lighting effects and access to further customizable lighting options such as variation timelines and the direction of lighting cycles. You can share the lighting profile with friends and allow them to merge multiple lighting effects into a single profile and modify the lighting timeline until they are satisfied with the order.
Using TT RGB PLUS Software, lighting schemes switch between 16 "Light Mode", Twinkle, Firefly, Heartbeat, Stack, Roundabout, Swirl, Copy Color, Full Lighted, Sound Control, Flow, RGB Spectrum, Ripple, Blink, Pulse, Wave, and Thermal, along with 3 "Color Modes", RGB, Single and Off, as well as 4 "Light Speeds", Slow, Normal, Fast and Extreme.
Thermaltake AI Voice Control allows users to control lights on Riing Quad easier by talking to TT RGB PLUS App. Ask it to turn the lights on or off, switch lighting modes, dim the lights, change light colors, or adjust lights/fan speeds. The Riing Quad also works with Amazon Alexa Voice Service, allowing users to control the lights or fan speeds by talking to any Alexa-enabled devices, offering a visual cue of current weather conditions in your location or anywhere in the world. All you have to do is say "Alexa, tell Thermaltake," and the lighting color will change to match the weather condition. The Ring Quad can also connect to Razer Chroma products providing synchronized gaming and RGB lighting effects on any Riing Quad equipped gaming systems and Razer gaming gear when gamers install both TT RGB PLUS Software and Razer Synapse 3.
The Riing Quad radiator fans are available for purchase in late January 2020. A 3-pack of Riing Quad 120mm fans are $149.99, and 140mm fans at $159.99. The Riing Quad is backed by a two-year warranty.