11. DVD+R DL- Page 1
BenQ DW1620 - Page 11
DVD+R DL- Page 1
- Writing Tests
We burned Verbatim, Philips and Traxdata DVD+R DL discs with DVD-Video content. The source disc was "Gladiator Movie - Special Edition" Disc1 with a total size of 6.86GB.
First, we transferred the movie to the hard disc with DVD Decrypter in ISO format (single file). We used the latest version of CopyToDVD software to burn the image file to the Traxdata Double Layer media. We chose the "GLADIATOR.ISO" image and we selected the BenQ burner to start burning.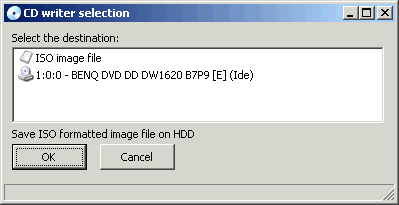 The recorder needed sometime to initialize the inserted media and the recording process started after some seconds. Total burning time reported by CopyToDVD was 37:50mins with 2.4X average writing speed.
We then repeated the same procedure with Verbatim Double Layer media. CopyToDVD reported 24:21mins total burning time with 4X average writing speed.
And finally, with the new DL media from Philips. CopyToDVD reported 39:58mins total burning time with 2.4X average writing speed.
For comparison reasons, we post some burning results from other DL writers, which all burned the same content ("Gladiator Movie - Special Edition" disc1), using the CopyToDVD software:
| | |
| --- | --- |
| Drive | Time ( min) |
| BenQ DW1620 | 24:21 |
| TDK 1616N (4X) | 22:51 |
| NEC ND-3500A (4X) | 22:52 |
| Pioneer DVR-108A (4X) | 23:10 |
| ASUS DRW-1604P (4X) | 23:10 |
| Samsung TS-H552 (2.4X) | 37:19 |
| SONY DRU-710A (2.4X) | 37:25 |
| LG GSA-4160B (2.4X) | 37:59 |
| LiteON SOHW-1633S (2.4X) | 38:37 |
| BenQ DW1600A DL (2.4X) | 40:16 |