AUO Presents 85-inch 8K4K Bezel-less TV Display
AU Optronics will participate in Touch Taiwan 2017 at Taipei Nangang Exhibition Center from September 20 to 22 to showcase a full lineup of large-sized display technologies and products, including a 85-inch 8K4K (7680 x 4320) display.
Exhibition highlights include ALCD technology with HDR (high dynamic range) introduced to the full series, including the 85-inch 8K4K (7680 x 4320), and 65-inch and 75-inch UHD 4K (3840 x 2160) bezel-less ALCD TV displays; 27-inch and 35-inch gaming monitor panels equipped with HRD technology; and a variety of public information display solutions.
AUO is presenting an enhanced version of ALCD technology. Through an HDR design, the display can achieve as high as 2000-nit brightness with significantly higher contrast. Its low reflective quality helps to deliver high HDR image quality even in daylight, capturing both bright and dark image details. By adopting cadmium-free quantum dots with high color saturation, the display promises rich and detailed color depth, with a wide color gamut exceeding NTSC 110% in all environments. AUO claims that the overall image quality is higher than OLED TV. AUO applies its self-developed GOA (Gate on Array) technology to lower the number of display driver ICs and expand the display viewing area. This allows for a boundless view.
AUO's 85-inch 8K4K bezel-less ALCD TV display has a 120Hz refresh rate.
The company's new bezel-less professional grade gaming monitor panels feature the NVIDIA G-SYNC HDR technology. In addition, quantum dot wide color gamut technology has been adopted to achieve high color performance. AUO is the first to present 27-inch gaming monitor panel combining 144Hz refresh rate and UHD 4K ultra high resolution, applying advanced HDR technology and Adobe RGB 99% high color saturation. AUO's 35-inch WQHD (3440 x 1440) gaming monitor panel possesses refresh rate as high as 200Hz and HDR technology, and sports a curved design with 21:9 ultra wide aspect ratio.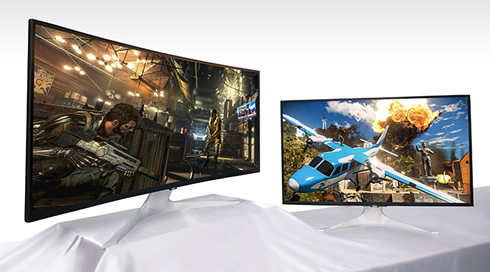 In terms of professional monitor displays, AUO presents 32-inch UHD 4K HDR monitor panel capable of supporting the HDR10 standard and professional grade Adobe RGB 99% high color saturation.
AUO has also introduced the ultra large 85-inch UHD 4K signage for the outdoors, equipped with 2500-nit ultra brightness and capability to operate for long periods of time with stability. The signage content is still vivid under the sunlight, suitable for outdoor bus stops and standalone billboards at boutique stores. The 55-inch full HD extreme narrow bezel video wall display adopts the extreme narrow bezel technology that enables the adjoining bezel to be only 1.8mm wide when the displays are assembled together. Each of the 55-inch panels could be assembled flexibly in irregular shapes depending on the space available.
A series of stretched type public information displays from 28.6 to 42 inches will also be demonstrated, exhibiting high resolution, high brightness and reliability, and could be installed in semi-outdoor areas as traffic information displays to provide real time information and advertisement for passengers, display wide format advertisements in retail stores, or built into smart shelves with sensors in retail stores to show merchandize information in an interactive way.