Samsung and LG Showcase New Business Signage Solutions at InfoComm 2019
Samsung Electronics and LG Electronics are having on display their latest display solutions for businesses at this week's InfoComm 2019 in Orlando, Florida.
LG Electronics
LG Electronics' business solutions are ranging from Micro LED signage, Transparent OLED signage, Open Frame OLED displays to a diverse lineup of LED products.
Welcoming visitors to LG's sprawling InfoComm booth is the LG OLED Falls exhibit that offers an immersive installation of Open Frame commercial OLED displays. Open Frame LG OLED displays enable a complete new approach for flexible digital signage designs. With no separate light source, the displays are extremely thin and lightweight, and flexible enough to be bent.
Making its world debut at InfoComm 2019 is LG's Micro LED signage. LG's Micro LED technology relies on arrays of microscopic LEDs that form individual pixels that work independently to express image detail. At less than 50 micrometers, each LED is about the size of a speck of dust or approximately half the width of a human hair.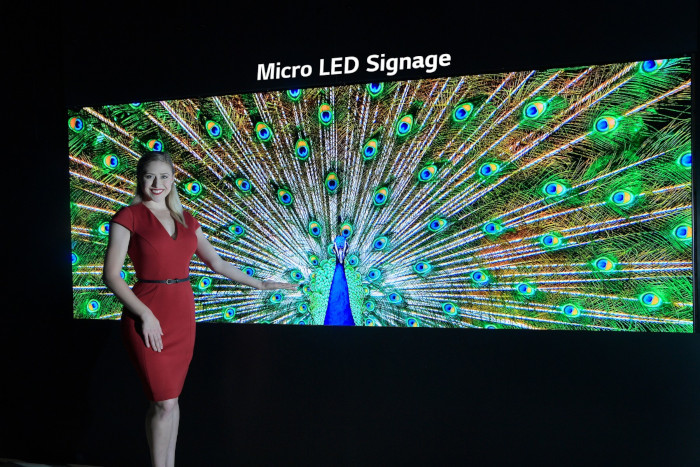 LG's new LAPE series uses a specially designed flexible LED display module that supports true concave and convex curvature up to 1000R for virtually limitless design flexibility. The fine-pitch LAPE series delivers vivid images thanks to the Dynamic Contrast Algorithm, LG-exclusive technology for a wide range of color and deep contrast.
LG's new 130-inch LED screen is designed to be easy to specify, order and install. Designed to replace conference-room projectors, this LAAF series screen features embedded speakers and AV connections to meet a host of business needs. In addition to compatibility with LG's partners such as Crestron, the screen will be supported by LG Signage365Care for real-time device monitoring and diagnostics.
LG's Transparent LG OLED display is designed to offer a nw customer experience in specialized commercial applications, particularly retail and hospitality. The 55-inch class display (model 55EW5F) delivers LG OLED's picture quality, meaning customers will be able to view video on the screen and simultaneously see objects behind the screen.
New to LG's large-format display portfolio for 2019 are IPS In-cell Touch Interactive Digital Boards (IDBs). The 86-inch model in the LG TN3F has been designed for meeting rooms, classrooms and other collaborative spaces with easy touch performance. These IDBs feature In-cell Touch technology that employs a direct bonding process to eliminate the gap between the LCD panel and protective glass. This combination delivers a faster response time for a realistic writing.
Samsung Electronics
For its part, Samsung Electronics showcases the latest version of its modular MicroLED screen that can be custom-tailored to any size and aspect ratio.
Additionally, InfoComm 2019 attendees can experience Samsung's additional latest displays including MagicINFO 7 with AI-Based Analytics Solution, the new Flip 65-inch and QLED 8K signage.
Designed for even the brightest areas of the luxury residential space, The Wall Luxury is configurable and customizable to a variety of sizes and ratios from 73-inches in 2K definition to 292-inches in 8K definition. With a depth less than 30mm, the slim, bezel-less infinity design along with customizable décor frames allows the display to blend into its surroundings.
Available globally starting July 2019, The Wall Luxury offers a new user interface. A customizable décor frame enhances the display and ensures it fits any luxury space. Thanks to the 100,000-hour lifetime of its self-emitting diodes, The Wall is designed to never turn off and can change into a digital canvas best matching the owner's interior needs and mood. When the screen is not in use, Ambient Mode can display a variety of curated art from paintings, photographs and video art to customizable pictures with digital frames. The Wall Professional, launched in June 2018 as the commercial-focused version of the display, delivers immersive viewing in public spaces, retail stores and hotels.
The Wall Luxury is also equipped with the AI picture quality engine, Quantum Processor Flex. A machine learning-based picture quality engine, Quantum Processor Flex delivers optimized picture quality scene-by-scene regardless of the original source format. The processor analyzes image data to automatically calibrate the original lower resolution content to align with the modular screen's resolution.
Whether viewing a classic movie, an anticipated sporting event or the latest console game, AI upscaling, Quantum HDR technology peak brightness of 2,000 nits and 120Hz video rate provide a rich visual experience. To complement the display's visuals, Samsung partnered with home entertainment and automation providers, including Harman Luxury Audio and Steinway Lyngdorf for audio solutions; Control4, Crestron and Savant for home automation solutions; and Domotz, Ihiji and OrvC for remote monitoring capabilities.
Samsung's MagicINFO 7 is a content and device management solution for all types of smart signage, allowing businesses to create, schedule and play content across a signage network while delivering informative business insights through real-time integrated data collection and analysis.
MagicINFO Analytics, powered by Brightics AI, turns the displays into a platform to deliver business insights. It allows users to optimize and automate store promotions and campaigns based on real-time integrated data. Using MagicINFO Analytics, marketers can analyze big data and in-store customer behavior to display the most relevant content customized for customers' needs. MagicINFO Analytics also delivers performance reports allowing retail managers and marketers to better understand promotion results, informing future marketing campaigns.
At InfoComm 2019, Samsung created a dedicated market-inspired space to showcase the many features and benefits of the powerful MagicINFO analytics solution. At the booth, Rule Manager, Behavior Sensing and Brightics AI tools, which enable the solution's contextual marketing, traffic analysis, customized modeling and analysis capabilities. MagicINFO 7 supports all of Samsung's smart signage products and beginning in 2019, will be embedded in its QLED 8K signage.
The new Flip 65-inch is the latest addition to Samsung's portfolio of digital flipcharts, offering greater collaboration capabilities in an easy to navigate display. First unveiled at InfoComm 2019 and available in the United States in September, the 65-inch model provides new features and is the world's fastest interactive touch display, according to Samsung.
For this model, Samsung introduced the No Gap Wall Mount, removing any unnecessary space between the product and the wall.
The Note Layer and Merge to Roll features create an interactive whiteboard, while Brush mode recognizes a wide range of pen thicknesses, allowing users to produce the visuals they are looking for with the same smooth feel as a real paintbrush. Water and Oil Painting Modes allow for different styles and textures, while color mixing capabilities let users access a full color palette. Additionally, technical capabilities such as connection to the cloud and popular cloud collaboration tools including Office365, OneDrive and Remote Desktop as well as remote management allow users to take collaboration beyond the Flip and empower employees across multiple locations.
Also announced at InfoComm 2019, Samsung and Cisco unveiled the next phase of their partnership to improve modern workplace collaboration. By integrating Samsung's superior QMR 4K SMART signage with the Cisco Webex Room Kit Mini, teams spread across different locations can communicate over video, taking advantage of the Webex Meetings platform. The combination provides a plug and play experience designed and optimized for smaller huddle spaces of three to six people. Additionally, Samsung's new Flip 65-inch will be the first interactive display to integrate with Cisco's Webex Room Kit Series as Cisco release support for interactive displays later this year. The combination will enable Webex co-creation on the Samsung Flip 65-inch" like video communication, two-way whiteboarding and other productivity tools.
Following the unveiling of the 82-inch" QLED 8K Signage at ISE 2019 in Amsterdam, today Samsung announced the U.S. availability of the display in July and a portfolio, unveiling the 98" model. Both models will be available worldwide beginning Q3 of this year. Samsung's QLED 8K combines the market's highest resolution with artificial intelligence-enabled upscaling technology powered by Quantum processor in 8K. Content can be produced at a lower cost and in lower resolution while still be displayed in 8K quality. The picture quality, with 100% color volume and peak brightness up to 4,000 nits, brings every detail to life attracting customer attention.