Arctic Cooling NV Silencer 5
2. Installation
The Arctic Cooling NV Silencer is not difficult to install, but the whole procedure needs a little patience and care in order to avoid any possible damage to the VGA card. As you can see, the VGA card used for this test was the AOpen Aeolus 6800 Ultra.
Here is our VGA card with the stock cooler.
First step obviously is to remove the previous stock cooler. Patience and care are required here also.
...many items must be removed :-)
As soon as you remove the stock cooling system, you should clean the GPU and memory chipsets of any thermal compound remains. After cleaning the surface, we should have a nice clean GPU and memories that look something like this...
original cooling system removed
Don't forget to also remove the graphics card's mounting bracket. This is a double width bracket and will be replaced with two custom brackets included in the package which are vital in order for the NV Silencer 5 to work properly.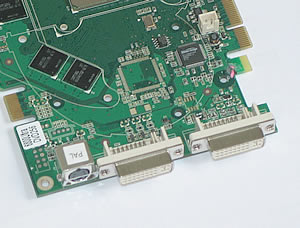 the stock mounting bracket should be removed
Our next step is to attach the new bracket. There are two different brackets, but for now we will install only the one that fits on the graphics card. The other one will be mounted on the PC case, which we will describe later.
the new mounting bracket is half-sized than the original
Before installing the NV cooler onto our VGA card, we peeled off all the thermal compound protective strips.
Now we can place our VGA card on the NV Silencer.
We put the VGA on the cooler...
Make sure everything is in the right position.

a profile view of the VGA on the cooler...
Now put the holding bracket on the rear side of the card...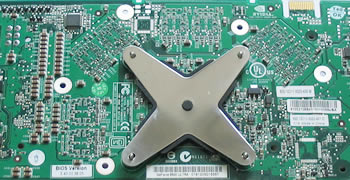 first place the rubber mount and afterwards the metallic bracket.
...and now screw in the retaining bolts.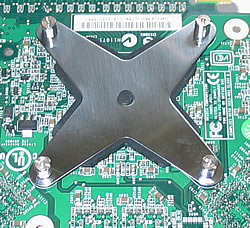 screw the retaining bolts
Finally, don't forget to plug-in the power connector.
the power connector should be connected
And the NV Silencer 5 is installed on our VGA card.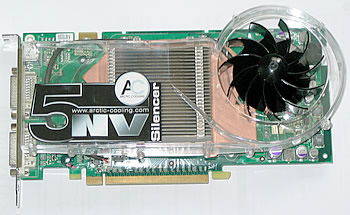 One thing we didn't like is that we had to remove a metallic heatsink from the graphics card in order for the NV5 to fit. The NV5 cooler did not cover the components cooled by this heatsink.
In order NV Silencer to fit we had to remove the above metallic heatsink.
The final step is to install our VGA card in our PC case.
The second metallic bracket will be installed now...
...which provides a heat exhaust outlet from the case.
Everything set :-)