Apacer Steno AB320 MP3 Player Review
1. Introduction

Apacer has a good reputation with flash products, including memory devices and MP3 players. The AB320 is the latest of a series of MP3 players offered by Apacer with a stylish, colourful and above all, compact and portable. Apacer kindly offered us the opportunity to put the 512MB AB320 MP3 player through its paces and in this review, we reveal what you can expect from such a tiny device.
- Features/Package
Apacer describes the AB320 MP3 Player as a Stylish Treasure design "...elements were based on the graceful lines of a seashell, one of the most beautiful and pure objects found on earth. The smooth layers and wave-like contours give the AB 320 a natural, organic style as well as a comfortable, pleasing feel when held next to the body or in your hands.
The AB320 is a stylish MP3 player for users that not only demand great MP3 functionality, but also tasteful design. It is easy to use, with a large LCM display that clearly shows sound tracks and functions. The ocean blue backlight adds a nice feel to the player and allows the displayed information to be easily seen in bright sunlight and at night..."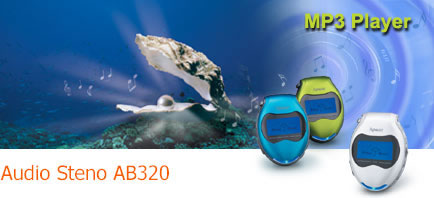 The AB320 is a portable audio device offering high capacity storage for your music, photos and data, while combining the functions of an MP3 player, a USB hard drive, FM radio and voice/FM recorder into one easy-to-use device.
• Playback MP3 /WMA /WAV format files
• Loop phrases with A-B repeat—ideal for language study
• Store data files such as photos and text
• Record voice with the built-in microphone
• FM radio with 20 preset channels
• Record FM broadcasts


Very lightweight at only 37 grams, the device provides maximum portability with a host of powerful play and record features. Below are the product specifications as found on Apacer's website:
USB Interface

Compatible with USB 2.0

Support format

MP3, WMA, WAV format support

Screen display

128x64 Full Dot Matrix with blue LED backlight

Digital FM tuner

Supports world-wide FM broadcast frequencies 76MHz ~ 108MHz and 20 station presets.

Memory capacity

128MB/ 256MB/ 512MB/1GB

Audio output

3.5mm earphone jack

Power source

AAA (x1) 1.5 volt alkaline battery

Battery life

Over 12 hours of playing time.

Weight

29g without battery

Dimensions

(L) 62.5 x (W) 44.3 x (H) 23 mm

OS support

Supports Windows 98SE/ME/2000/XP/Mac OS 10.X.
Driver included for Windows 98.
The AB320 retail package that arrived at our labs contained:
The USB2.0 MP3 Player
A Quick Guide
A USB cable
Stereo Earphones
One AAA battery
Driver & User Manual CD