Arctic Cooling Copper Lite
1. Introduction
Founded in 2001, Arctic Cooling is a well known manufacturer of cooling solutions for personal computer systems that focus on CPU, GPU and PC-Case cooling. One of its most well known products is the Copper Silent 3 alias CopperLite. This is the CPU cooler that we will be reviewing in the following pages.
CopperLite belongs to the latest "Low Noise" coolers for the Athlon XP, which can effectively cool the highest clocked Athlon XP CPU. A clip which is designed especially for the CopperLite, provides simple installation and increases security during transportation. Thanks to the long-life ceramic bearings, Arctic Cooling offers 6 years warranty.
Here are the detailed specifications as provided by Arctic-Cooling:
Product name
CopperLite
Heatsink Dimension
79.5 x 78 x 45 mm
Fan Dimension
77 x 77 x 42 mm
Overall Dimension
92 x 114 x 120 mm
Rated Fan Speed
2200 RPM
Power Consumption:
0.13 Amp.
Bearing:
Arctic Ceramic Bearing
Air Flow:
32 CFM / 55 m3/h
Weight:
298 g
Compatibility:

This cooler is compatible to all Socket A boards.

It can also be used on Socket 370 boards if there is a 60 x 78 mm space around the socket.

Noise Level:
1.0 Sone
Thermal Resistance:
0.49°C/Watt
Retention Module included Warranty:
6 Years
Relevant Height
The relevant height for air flow, measures the height at which air can be drawn in. A fan mounted above this height, will not influence the airflow. Therefore, for accurate results, when the total height of a standard fan is compared with a reverse mounted fan, the relevant height for airflow must be used.
Noise Level
The noise level is measured in Sone (loudness) instead of dB (sound intensity).
The loudness depends upon the ears response curve and tells you exactly, how bothering a certain noise is.
Thermal Compound
Arctic Cooling ships their coolers with the ARCTIC MX-1 thermal compound. This compound hardens during the first 200h while the performance improves steadily. With heating up the paste / heatsink the process can be shortened. The performance is good enough even from the beginning, to provide reliable cooling for your CPU.
Below you can see the CopperLite nest for the AMD Socket A stock cooler.
Both coolers have a copper base where the CPU contacts the cooler. In the case of the Arctic Cooling CopperLite, the surface is very polished. The reflection of a hand on the surface in the picture below confirms this :-)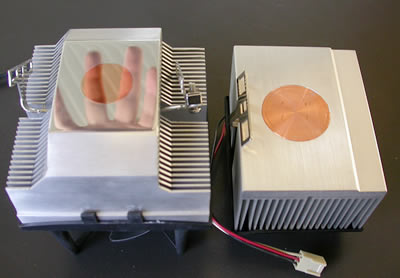 The retail box...
The ARCTIC MX-1 thermal compound we mentioned previously is included in the retail package.