AOpen Aeolus 6800Ultra SLI mode
1. Introduction
Recently, rumours about the release dates for the new nVidia G70 and new ATI R520 chipsets are widespread around the web, while the flagships of both nVidia and ATI, haven't changed. In response to ATI's X850XT, nVidia's 6800Ultra core has a lot to say. But now that everyone is waiting for the new chipsets to be released, why invest in the performance of the 6800Ultra? nVidia has an answer: If you don't want to wait for the new G70 to arrive, don't buy one graphics card, buy two and experience the equivalent performance of the new chipset now.
In this review, we will be testing two AOpen Aeolus 6800Ultras in SLI mode. These cards have 256MB each, and promise to outdo any other card we have ever tested. By using SLI mode, nVidia and AOpen offer increased performance, up to 80%. Of course, in case you are a hardcore gamer or a PC enthusiast and you want to get your hands on these beauties, you will have to own an SLI motherboard, like the ASUS A8N-SLI or the MSI K8N-SLI.
- Packaging/Bundle
The card ships in the nice looking package you can see in the picture above.
AOpen included in the package a 5 in 1 Game Collection, with the following games in "Lite versions":
Vietcong
Railroad Pioneer
Neighbors from Hell
Tropico 2: Pirate Cove
Aquanox 2: Revelation
But AOpen couldn't do only with these "Lite" games and added two more, SpellForce: The Order of Dawn, and Arx Fatalis.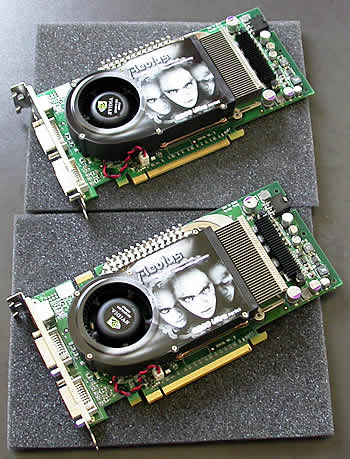 There are also some accessories included in the retail package :
- Cable : S-Video to Composite cable
- DVI-CRT converter
- User's Guide : AOpen User's Guide
- VGA driver disc : AOpen VGA driver disc