6. Playing media files
With all these video files stored into our player's HDD, we are ready to watch them. All you need to do is to navigate through the desired folder and select a video file. The the AC Ryan PlayonHD! player will automatically preview the video file (right area of TV). Pressing the 'enter' will maximize the screen (full screen):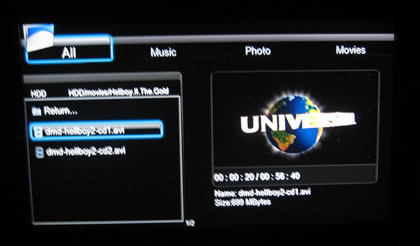 The 'info' button gives us information about the file size, the filename and the elapsed/remaining playback time:
Pressing again the 'info' button will get us more information about the video/audio formats of the selected file:
The FF/FW functions work very well and fast - up to 32x. The player will also conveniently display the exact minute of the movie you are currently navigating through - another usefully function we missed when we tested some other media players:
The AC Ryan PlayonHD! is also displaying SRT subtitles perfectly:
Support for more complicated languages such as "Greek" and many other Eastern European/Asia languages is also available:
and Greek subtitles are displayed without any issues, as we have experienced with some other media players: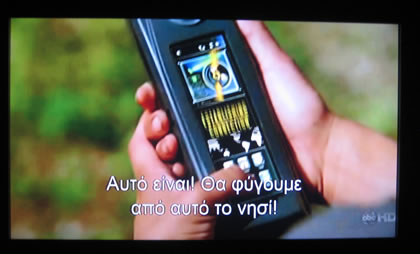 If you stop the play back and then select the file again, a resume option is available:
Another neat feature of the PlayonHD! player is the ability to stretch movies so they can fully displayed in your TV screen. For example, a WMV HD file isn't automatically stretched, but this can be done using the zoom (+) button. We hope that AC Ryan will make this feature work automatically so users won't have to press the zoom button again and again (very useful for Cartoon TV Series).
You can select among the 'fit,' 'stretch,' 'wide' as well as more options for the picture stretching:
- Audio playback
The player can also reproduce audio files. In our case, we tested several MP3 files (VBR quality) and we didn't have any issues. Information about the artist, title or album of the audio file you have selected is available. Too bad that there is not any equalizer and maybe some visual effects are present here:
Most of the DTS/THX formats are also supported:
However, the Dolby Digital+ 7.1 and the Dolby TrueHD 7.1 formats are not supported (unknown codec, no sound):
The AC. Ryan PlayonHD! also supports playback of ISO DVD-Video and Blu-Ray movies. The player will accept any non copy-protected content. For any other content, a software such as the AnyDVD HD could help..
The DVD-Menus were working perfectly: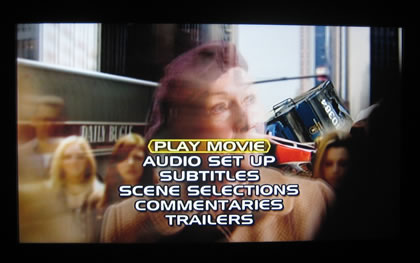 Although Blu-Ray ISO images do not include any working menus (for now), the main movie works just fine.