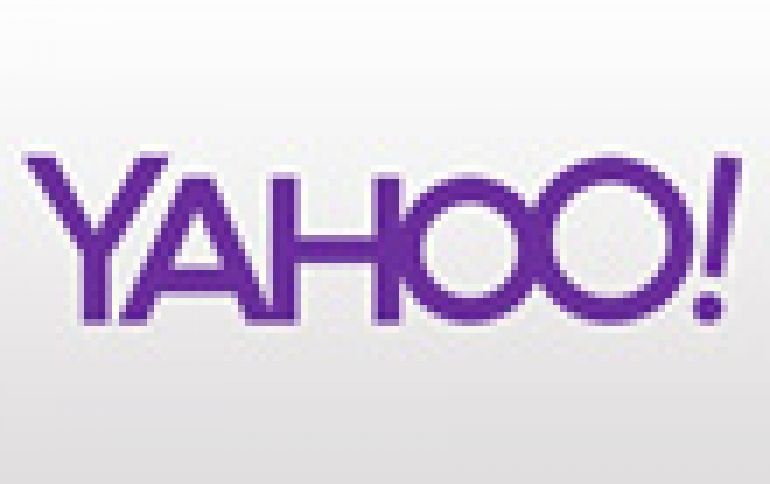 Yahoo At 2014 CES
At the annual Consumer Electronics Show (CES) in Las Vegas, Yahoo unveiled new products and media sites across smartphones, tablets and the web, as well as a new suite of advertising technology. In a keynote address, Yahoo CEO Marissa Mayer discussed the company's vision to make the world's daily habits "inspiring and entertaining." Yahoo executives were joined onstage by Yahoo's new Global Anchor Katie Couric; Yahoo Tech vice president of editorial David Pogue; celebrity talent including SNL's Cecily Strong and Keenan Thompson; as well as John Legend, Grammy-Award-winning artist and a member of Yahoo's 2013 On the Road tour.

"Yahoo is about making the world's daily habits inspiring and entertaining, and there are few places as inspiring and entertaining as CES," said Marissa Mayer. "We have been hard at work re-imagining Yahoo's core businesses across search, communications, media and video ? all powered by two powerful platforms, Flickr and Tumblr. The response has been tremendous. This fall, for the first time ever, we surpassed 400 million monthly mobile users, which is about half of our 800 million total monthly users."

Yahoo also announced the acquisition of Aviate. The Aviate team created a product that changes the way people interact with their Android devices. Aviate auto-categorizes apps on the Android phone and intelligently gathers them into "spaces." By using signals to understand a person's context - such as WIFI, GPS, Accelerometer, or Time - Aviate automatically surfaces information at the moment it is useful. So whether a user is just waking up, driving, at work or out for the night, Aviate learns their digital habits and helps anticipate the information and apps they need.

Yahoo plans to make the Aviate technology a central part of its Android based experiences in 2014 and beyond and will continue to develop the product. Aviate, currently in private beta, is available to the first 25,000 people who download the app in the Google Play store and use code "YAHOO".

Yahoo also launched Yahoo News Digest for iPhone and iPod touch, built using insights from Summly. Yahoo News Digest delivers the most important news of the day, twice per day, right to a mobile device. EThe digests provide a definitive summary of all the important, need-to-know news to help people stay on top of what is happening in the world. In the morning and evening, users will be notified when the top stories are ready to read. They can scan the Summly summary, as well as read units of information called "Atoms," which provide context to each story, including maps, infographics, videos, photos and more.

In addition, Yahoo unveiled Yahoo Food and Yahoo Tech. These new digital magazines feature bite-sized stories, videos, and photos curated from Flickr and across the web. The new sites are designed with phones and tablets in mind, and feature a fresh design for the computer screen as well, with photographic tiles that represent the various stories. When readers click a tile, it expands in place to the full article; so readers don't have to deal with browser tabs, multiple windows, or the Back button.

Yahoo Food gives readers photos, recipes, stories on the top food trends, cooking tools and new techniques.

Yahoo Tech is for people who want machines that work well, but don't care about version numbers, chip names, and bus speeds. With features like Pogue's Inbox, What to Buy Now, Unsung Features, Daily Meditations, and exclusive Kickstarter Reviews, Yahoo Tech covers what to buy, but also how to use it.

Yahoo Smart TV offers interactive viewing with personalized program recommendations from TV, Video on Demand, and Web services, along with complementary content related to the show. The Yahoo Smart TV platform is available immediately for integration into televisions, media players and set-top devices. Yahoo Smart TV is currently being demonstrated at CES, powered by Sigma and AmLogic reference platforms.

Yahoo announced its unified suite of digital advertising products for premium and audience-focused display, native and search advertising, which are accessible through a new buying platform.

Included in today's announcement are three new products and platforms:

- Yahoo Audience Ads -- a better way to buy ads targeted to specific audiences. Yahoo Audience Ads deliver the right messages to the right users across Yahoo and other sites with the scale and targeting precision of real-time programmatic buying;
- Yahoo Ad Manager and Yahoo Ad Manager Plus -- a new buying platform that gives advertisers direct access to Yahoo's advertising products;
- Yahoo Ad Exchange -- a new global ad marketplace that gives publishers more visibility and control over advertising on their sites.

The company also announced that Tumblr Sponsored Posts now leverage Yahoo's technology to offer enhanced targeting, improved optimization and a new way to buy. These features are available among Tumblr's existing suite of advertiser offerings, which provide brands the ability to share creative work that is seamless to the Tumblr experience. Additionally, Tumblr is introducing a cost per engagement (CPE) pricing model, which means that advertisers are only charged for active engagements with their content -- Reblogs, Likes, follows or clicks made directly from the sponsored unit itself.