Xtreamer Pro Media Player Review
9. Jukebox
Another neat feature of the Xtreamer Pro media player is the the Jukebox function. The service will download information about movies, pictures etc.
First you need to install the Jukebox function, as we mentioned in the previous page. Then press the "MENU" (6) button on your remote control and the Jukebox tab will appear at the main menu of the player. Here you can select among the provided content categories, which are Movies, Series, Pictures and Music. We selected the Movies category:
We should remind you here that the JukeBox function is just gathering content stored in your connected devices and provides information for them. It does not download any video/audio content from the internet, besides some information for your multimedia stored files. So the first thing to do in order to use the function is to select the local or network sources for the content you wish to add to the JukeBox. We selected a network movie folder and add it to favorites:
The JukeBox will scan the selected folders for related files and import them. The procedure starts with a wizard that allows you to make some additional settings: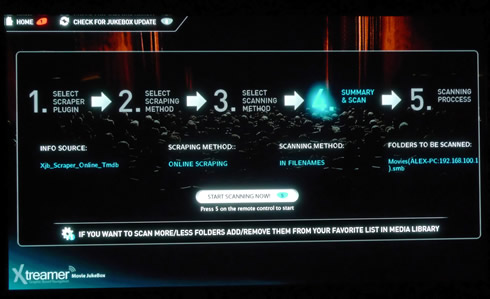 Scanning takes some time and below you see the results: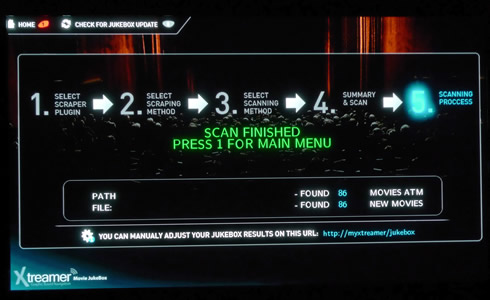 Here is how the JukeBox presents the movies you have imported to it: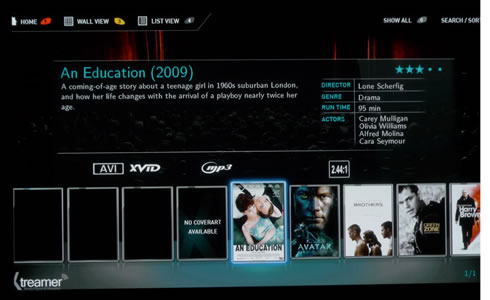 You may change the way this information is displayed here, according to your flavor. We assume that it's better to have each movie stored in its own folder, since the Jukebox will download (internet) and locally store many files related to each movie to the same folder.
The information for any movie gathered by JukeBox can be also displayed on your screen during movie playback using the "Info" button of your remote control:
The information for each file you have imported to the Jukebox can be accessed and modified in a local address at http://myxtreamer: