Xtreamer Pro Media Player Review
3. A closer look
The Xtremer Pro is listed at Xtremer's web site for €149 and the WiFi-enabled version is available for &euro169. Its price is higher than other media players we have tested at CDRinfo.com, such as the AC Ryan PlayOnHD! and the Patriot Memory Box Office. We hope that the device will worth the extra cash.
What you see below is the player's retail box. At a first glance it looks cool and includes all the necessary information about the device's capabilities, including certification logos for various supported audio and video formats: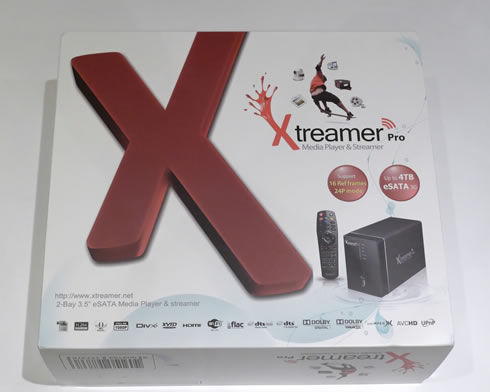 The contents of the box are secured using protective foam packaging:
Here is what there is inside the package:
- 1x Xtreamer Pro
- 1x Remote Control
- 2x AAA Battery
- 1x 1.5m HDMI cable
- 1x e-SATA cable
- 1x USB Slave cable
- 1x Composite A/V Cable
- 1x Back panel e-SATA adapter for PC
- 1x USB extended cable for Wireless USB module
- 1x AC Adaptor
- 1x Power Cord
- 1x Quick Installation Guide
It is obvious that the provided cables should cover most of our connectivity needs. We liked the fact that there is a USB cable extension for the Wifi module, useful as you will be setting up your WiFi Lan and seek for the best reception signal.
The player is compact in size at 175 x 120 x 82mm and its weight is around 1.0kg. Its housing is made out of aluminum, except from the front plastic panel. As you can see in the picture below, the front panel is simple and includes five LEDs indicating the product's operation mode (network, NES, POWER etc.), a USB and an e-SATA port: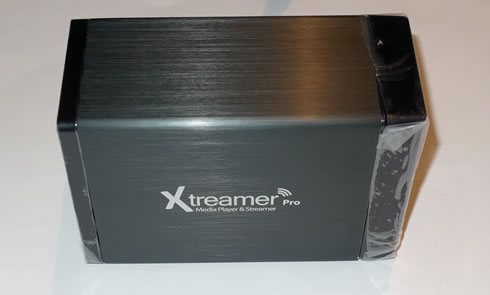 The rear panel includes the connectivity ports (USB 2.0, LAN, Digital audio Optical stereo - Dolby 5.1 DTS, Analog audio & video RCA ports, HDMI 1.3a with 7.1 CH pass through)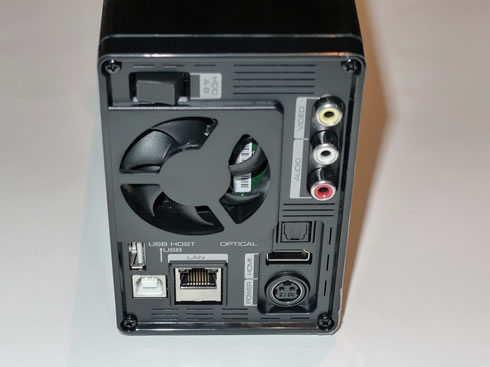 We would like to have an 1GBit lan port, instead of the included 10/100. Also an additional USB port would be welcomed as well, in case you need to install an external device such as a USB optical disc drive.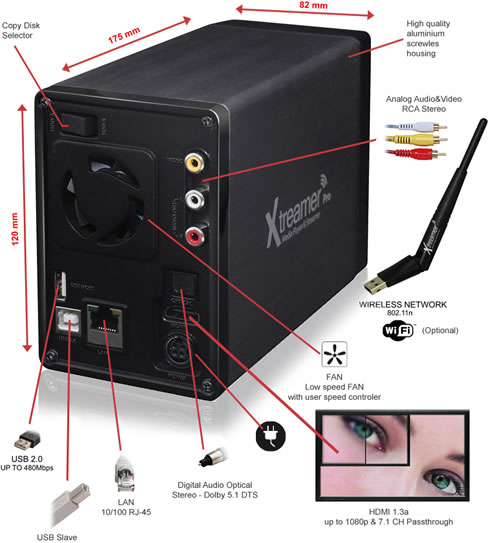 We also show you the bottom side of the device since there is the switch that can be accessed in order to remove the front panel of the device and install your HDDs: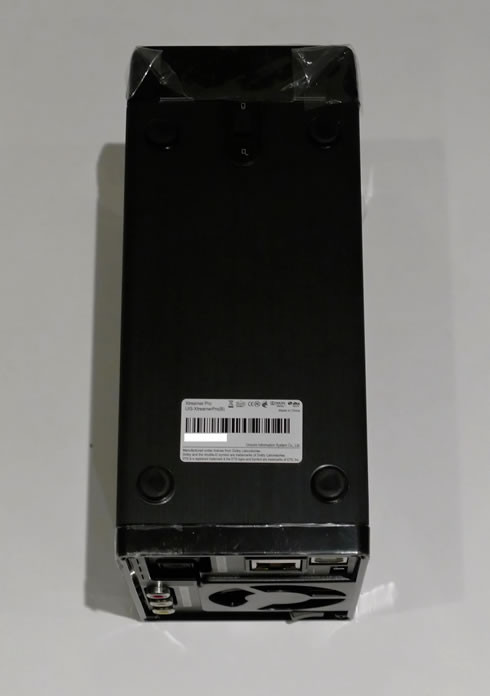 Bundled with the player is a remote control, which is small in size for convenient handling and has a well-designed layout, with easy to press buttons positioned at the right place. Of course, it may take you some time to familiarize yourself with colored buttons (see below), which are used while you are navigating across the player's menu: