1. Introduction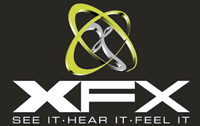 XFX is a division of PINE Technologies, a leading manufacturer of state-of-the-art processing components. Founded in 1989, PINE Technology designs, develops, manufactures and distributes high-quality digital audio and video devices as well as computer peripherals. PINE also distributes branded computer and communications products. The company's movement into areas such as global B2B eCommerce and software development have helped keep it ahead of the competition. Today, PINE enjoys strategic alliances with companies such as Dell, NEC, Microsoft, Panasonic, Phillips, Ricoh, Samsung, Ingram Micro, Intel, Quantum, Connertech, Pioneer and Fujitsu.
After the 7800GTX series, NVidia has released a new product, the 7800GT, more affordable but maintains the high performance. XFX provided us with their GeForce 7800 GT 256MB product.
Graphics Engine

GeForce™ 7800GT

Video Memory

256 MB DDR3

Engine Clock

450MHz (Factory Overclock)


Memory Clock

1.05GHz (Factory Overclock)


RAMDAC

Dual 400MHz

Bus Standard

PCI-E

Memory Bus

256-bit

32GB/sec

Fill Rate

Vertices/sec.(million)

700

Pixels per clock (peak)

20

TV Output

Video-in & Video-out (VIVO) with HDTV-out support

Adaptor/Cable bundled

VIVO cable
2XDVI adaptors
power cord

Highlighted Features
HDTV ready , Dual DVI Out , TV Out , SLI ready , DVI Out
System Requirements
P4/Celeron, AMD K6/Athlon
PCI-Express 16X slot
256MB RAM at least
Installation software requires CD-ROM
DVD playback requires DVD drive
Windows 200/XP
400W minimum system power supply
(with 12V current rating of 26A)
Chipset Features
The NVIDIA® GeForce™ 7800 GPUs supercharge gaming--delivering unparalleled performance and advanced visual effects for next-generation games. Featuring a revolutionary superscalar architecture and backed by the NVIDIA® ForceWare™ software, the GeForce™ 7800 GPUs deliver ultra-realistic effects, unmatched features, and rock-solid stability so you can play your game the way it's meant to be played. Look for special bundles at participating e-tailers.
NVIDIA® SLI™ Technology

Delivers up to 2x the performance of a single GPU configuration for unparalleled gaming experiences by allowing two graphics cards to run in parallel. The must-have feature for performance PCI Express graphics, SLI dramatically scales performance on over 60 top PC games
NVIDIA® PureVideo™ Technology

The combination of high-definition video processors and NVIDIA DVD decoder software delivers unprecedented picture clarity, smooth video, accurate color, and precise image scaling for all video content to turn your PC into a high-end home theater. (Feature requires supported video software.)
PCI Express™ Support

Designed to run perfectly with the next-generation PCI Express bus architecture. This new bus doubles the bandwidth of AGP 8X delivering over 4 GB/sec. in both upstream and downstream data transfers.
NVIDIA® UltraShadow™ II Technology


Enhances the performance of bleeding-edge games, like id Software's Doom 3, that feature complex scenes with multiple light sources and objects
128-bit Studio-Precision Computation
128-bit studio-precision computation through the entire pipeline prevents image defects due to low precision and ensures the best image quality for even the most demanding applications.
256-bit Memory Interface
Delivers more memory bandwidth and efficiency to power the latest games and applications at blazing speeds.
64-bit Floating Point Texture Filtering and Blending
Based on the OpenEXR technology from Industrial Light & Magic (http://www.openexr.com/), NVIDIA's 64-bit texture implementation delivers state-of-the-art high dynamic-range (HDR) visual effects through floating point capabilities in shading, filtering, texturing, and blending.
Adaptable Programmable Video Processor
PureVideo's programmable technology adapts to new video encoding formats as they are developed to provide a future-proof video solution. (Feature requires supported video software.)
Advanced Motion Adaptive De-interlacing
Smoothes video and DVD playback on progressive displays to deliver a crisp, clear picture that rivals high-end home theater systems. (Feature requires supported video software.)
Dual 400MHz RAMDACs
Blazing-fast RAMDACs support dual QXGA displays with ultra-high, ergonomic refresh rates--up to 2048x1536@85Hz.
Dual DVI Support
Able to drive the industry's largest and highest resolution flat-panel displays.
High-definition MPEG-2 and WMV Hardware Acceleration
Smoothly playback all MPEG-2 and WMV video--including WMV-HD--with minimal CPU usage so the PC is free to do other work.
Integrated HDTV Encoder
Provides world-class TV-out functionality up to 1080i resolution.
Microsoft® DirectX® 9.0 Shader Model 3.0 Support
Ensures top-notch compatibility and performance for all DirectX® 9 applications, including Shader Model 3.0 titles.
Next-generation Superscalar GPU Architecture
Delivers up to 2x the shading power of previous generation products taking gaming performance to extreme levels.
NVIDIA® CineFX™ 4.0 Engine
Delivers advanced visual effects at unimaginable speeds. Full support for Microsoft® DirectX® 9.0 Shader Model 3.0 enables stunning and complex special effects. Next-generation shader architecture with new texture unit design streamlines texture processing for faster and smoother gameplay.
NVIDIA® Digital Vibrance Control™ (DVC) 3.0 Technology
Allows the user to adjust color controls digitally to compensate for the lighting conditions of their workspace, in order to achieve accurate, bright colors in all conditions.
NVIDIA® ForceWare™ Unified Driver Architecture (UDA)
Delivers a proven record of compatibility, reliability, and stability with the widest range of games and applications. ForceWare ensures the best out-of-box experience for every user and delivers continuous performance and feature updates over the life of NVIDIA GeForce GPUs. Includes full support for PCI Express and AGP.
NVIDIA® Intellisample™ 4.0 Technology
The industry's fastest antialiasing delivers ultra-realistic visuals, with no jagged edges, at lightning-fast speeds. Visual quality is taken to new heights through a new rotated grid sampling pattern, advanced 128 Tap sample coverage, 16x anisotropic filtering, and support for transparent supersampling and multisampling.
OpenGL™ 2.0 Optimizations and Support
Ensures top-notch compatibility and performance for all OpenGL applications. NVIDIA® nView® Multi-display Advanced technology provides the ultimate in viewing flexibility and control for multiple monitors.
Video Color Correction
Color temperature correction makes actors' faces appear natural, rather than washed out and pale, when playing videos on LCD and CRT displays. Display gamma correction ensures videos are not too dark, overly bright, or washed out regardless of the video format or display. (Feature requires supported video software.)
Video Scaling and Filtering
High-quality scaling and filtering technology delivers a clear, clean image at any window size, including full-screen HDTV resolutions up to 1080i.
- Packaging/Bundle
One of the most stylish retail packages which also includes the following:
FarCry
MotoGP
The Threat
NVidia drivers v77.77
By the time of this review, XFX suprised us by adding the brand new Call of Duty 2 game in the retail package, making it a very attractive buy for gamers that want to own the long expected Call of Duty 2 game!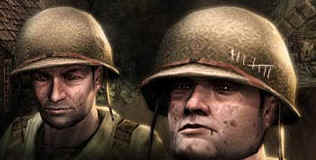 The package includes a multi-language installation guide and user's manual as well as the following cables:
- VIVO cable X1
- DVI-CRT converter X2
- Power cord X1