15. Overclocking
No matter your graphics card, there comes a time in your computer's life when it can no longer cope with the latest technology the ever so popular games use. This is one of the main reasons for overclocking your graphics card. Gamers are always looking forward for a little extra boost in terms of framerate. Even though most of the times the boost is far from noticeable, overclocking remains the last resort when you can't afford to buy a brand new VGA card.
Increasing the memory clock too much,
produces the so-called "artifacts".
The stock clock speeds for the XFX 7800GT are 450MHz for the GPU and 1.35GHz for the memory modules. Notice that the default clock speeds for NVidia's 7800GT chipset are 400MHz and 1.0GHz for for the GPU and the memory modules respectively. So knowing that the XFX 7800GT is already overclocked, we're not expecting a lot.
With the contribution of RivaTuner we managed to set the core clock to 489MHz and the memory clock frequency to 1.18GHz, not a negligible difference, while the already overclocked XFX 7800GT has gone even higher. It seems that XFX has chosen not to reach the limits of the card, opting for higher stability and reliability.

As we mentioned in a previous page, the cooling system is rather good, able to handle the higher clock frequencies.
| | | |
| --- | --- | --- |
| | idle | while benchmarks |
| Default clocks | | |
| Overclocked | | |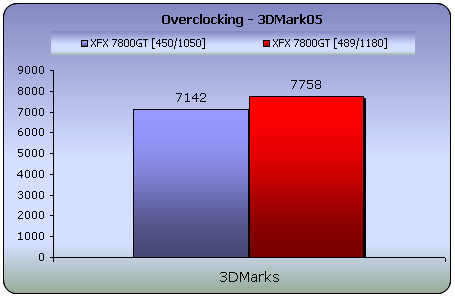 With benchmarks such as Futuremark's 3DM03 and 3DM05 there is a rather good difference between the default and our overclocked settings. 600 3DMarks in 3DM05 and 1000 3DMarks in 3DM03 is a very good performance. We also tried with even higher clocks, for example 509/1245 or 500/1230, but either the 3DM05 or 3DM03 were froze so we had to find a more stable settings. At 489/1180 the XFX 7800GT finished the tests without a single problem.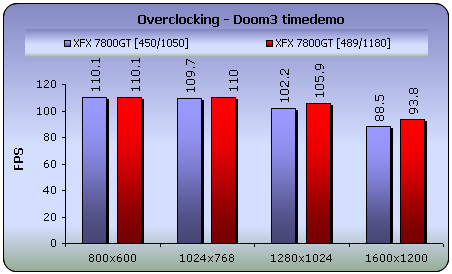 In real world, where games is the judge, the overclocked settings reported negligible difference than the stock settings. Moreover in HL2 sometimes there were artifacts reported. You might gain 2~5fps in higher resolutions with filtering disabled while 5~8fps with AA and AF enabled ( in HL2 at 1600X1200 with 4XAA and 8XA the framerate is 127.7fps instead of 119fps while in Doom3 55.9fps instead 50.5fps). Such difference we believe is not a reason for further overclock of the XFX 7800GT.