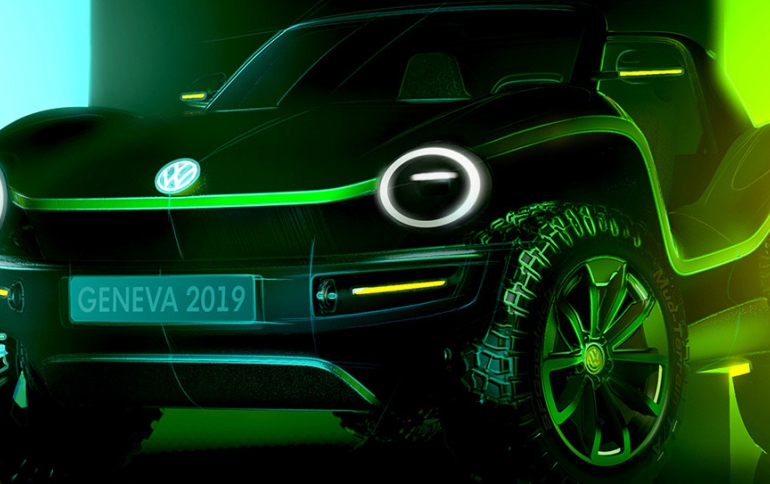 The Volkswagen Buggy Goes Electric at the Geneva International Motor Show
Elvis, James Bond and Steve McQueen, they all drove it: The cult VW dune buggy classic car returns – this time all-electric.
The new Volkswagen study, based on the Modular Electric Toolkit (MEB), is celebrating its premiere at the Geneva International Motor Show.
In 1964, US-American Bruce Meyers assembled his handmade and open to the elements - without doors or roof - based on a shortened VW-Beetle chassis, dune buggy. He was seeking an alternative for heavy four-wheel drive SUVs, in order to move faster through the Californian dunes. The first buggy to be built, the "Meyers Manx", was born. In 1967, he proved that he had indeed created a real alternative when he set the record race time crossing from Tijuana to La Paz in his first Monocoque-Manx. Quickly, the fun car conquered the wide beaches of the American coastlines and became a cult-classic car of the 70s. Up until the 1980s, around 250,000 individual Beetle-based vehicles were built worldwide – as one-offs or at low volumes: From the Beetle Cabriolet to special bodies from companies such as Hebmüller and Rometsch and the famous, completely open Meyers-Manx Buggy.
The legend is set to be revived: The study of the all-electric Buggy will be celebrating its premiere at the 89th International Motor Show in Geneva. The conceptional approach of the ID. BUGGY is based on the famous historical models from California: While they were based on VW Beetle chassis, the Modular Electric Toolkit (MEB), a platform developed specifically for electric vehicles, proves to be just as flexible.
The authentic reinterpretation of the original dune buggy has been achieved without a fixed roof and conventional doors. In addition, freestanding wheels with off-road tyres and open side skirts dominate the overall impression.
"A buggy is more than a car. It's an attitude towards life. This is notably embodied in the new ID. BUGGY: It visualises a modern, non-retro interpretation of such a classic and, most of all, that electric mobility can be very emotional," states Klaus Bischoff, Head Designer at Volkswagen.
The new MEB concept vehicle proves, that this fully electric platform can be used for more than large-scale series production models.