TEAC Introduces New Turntable, CD player
TEAC's range of analogue turntables has now been joined by the TN-570, a new flagship model that aims to deliver the highest audio fidelity yet. The TN-570 belt-driven turntable combines a clear acrylic platter, a premium AT100E Moving Magnet cartridge, an new, height-adjustable S-shaped tonearm, all mounted on a dual-layer composite black marble/high-density MDF base.
Features
Belt-drive turntable with electronic speed change
New static-balanced S-type tonearm
Clear acrylic platter
11.3kg Dual-Layer composite artificial black marble/high density MDF plinth
Platter Rotation Sensing Servo System (P.R.S3)
Built-in phono stage (moving magnet)
Optical digital output (192kHz/24-bit max) and USB output (48kHz/16-bit) for transferring music from vinyl records to your Mac or PC
Supplied high performance AT-100E moving magnet (MM) cartridge
The new S-shaped tonearm features a light alloy universal headshell (to allow easy cartridge swapping) and is height adjustable, to compensate for cartridges that are greater in height than usual. In another break from the norm, speed selection between 33 1/3rd and 45 RPM speeds is achieved electronically, rather than requiring the platter to be physically removed in order to move the belt.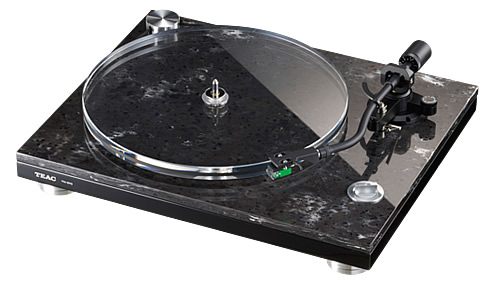 Why belt-drive? TEAC claims that most direct-drive turntables tend to suffer from cogging effects, a fine pulsing that occurs naturally when a direct-drive motor turns. That makes direct-drive suitable for DJ turntables (because they can start/stop very quickly) but less so for domestic use where ultimate sound quality matters more.
The TN-570 avoids the cogging issue by using belt-drive but then goes one step further. TEAC has also developed a ingenious Platter Rotation Sensing Servo System (using an optical sensor) to deliver a rotation precision that?s almost the same as you?d get with a direct-drive.
And the same goes for the combination of a clear 16mm acrylic platter and massive 11.3kg Dual Layer composite artificial marble 'Onyx Emperador'/MDF base (secured on a honeycomb structure bottom cover). The materials have been chosen for their ability to help minimise unwanted resonance, allowing the content of your vinyl to emerge uncoloured.
A built-in MM phono stage is also included, along with an optical output (up to 192kHz/24-bit) and USB output (48kHz/16-bit), allowing owners to convert their vinyl to the latest digital formats (a version of the TN-570 without the digital output stage ? called the TN-550 ? will also be available in certain markets).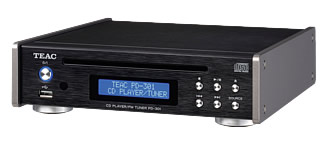 TEAC has also launched the PD-301 compact disc player with a built-in DAB/RDS FM tuner.
Features
Precision slot-in CD drive mechanism with quick-loading and automatic playback
Supports CD-DA, MP3 and WMA files on CD-ROM/R/RW discs
Front USB Port for WAV, AAC, MP3 and WMA playback
Built-in tuner supports DAB/RDS FM broadcasts
All-aluminum enclosure adds both vibration resistance and style
Just 215mm wide and 61mm high, easy to accomodate
One of the most compact CD players available (it measures just 215 x 61 x 232mm), the PD-301 is the latest addition to TEAC's Reference 301 series of hi-fi components. The player features a quick-loading slot-in drive that will also decode home-made discs encoded with MP3 and WMA content.
For those who also want to play back WAV or AAC files there?s a USB slot on the front panel for thumb drives. If your stored songs are accompanied by ID3 tags the song and artists names are shown on the player?s own display (MP3, WMA and AAC files only).
The PD-301 features a built-in digital-to-audio decoder (the Burr-Brown PCM5142) but it also sports coaxial and digital outputs if you decide you want to use the player as a digital transport partnered by an external DAC (the AI-301DA has built-in 192kHz up-conversion).
This player also features a DAB/RDS FM tuner, complete with 20 presets - great if you need to add radio listening to your hi-fi system but don?t want to invest in a separate tuner.
The PD-301?s tuner section also offers upgrading potential. DAB/RDS FM signals received by the unit can be sent as digital signals (using the optical/coaxial outputs) from the player to an external DAC (44.1kHz/16-bit resolution) if you want to enjoy even higher performance in the future.