SpaceX Successfully Launches New Falcon 9 Block 5 Rocket Primed for Crewed Missions
An updated version of the SpaceX Falcon 9 rocket, tailored for eventual crewed missions for NASA, launched on Friday from Florida's Cape Canaveral carrying a communications satellite for Bangladesh into orbit.
This was the first flight of Falcon 9 Block 5, the final substantial upgrade to SpaceX's Falcon 9 launch vehicle. Falcon 9 Block 5 is designed to be capable of 10 or more flights with very limited refurbishment as SpaceX continues to strive for rapid reusability and extremely high reliability. It includes more powerful engines, a stronger heat shield for the trip back through Earth's atmosphere and new retractable landing legs.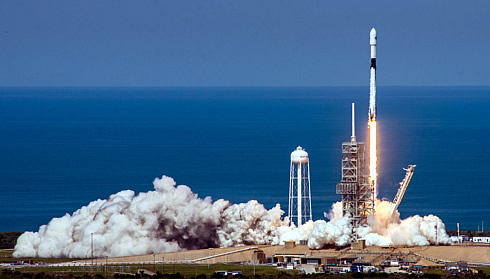 Following the launch, Falcon 9's first stage successfully landed on "Of Course I Still Love You," SpaceX's droneship stationed in the Atlantic Ocean.
Enhanced rocket reusability also is a core tenet of SpaceX owner and billionaire entrepreneur Elon Musk's broader objectives of making space travel commonplace and ultimately sending humans to Mars.
Friday's launch came a day after the original launch countdown was halted one minute before blastoff time due to a technical problem detected by the rocket's onboard computers.
The rocket's payload was the Bangabandhu Satellite-1.
The Block-5 is expected to be the first SpaceX vehicle to satisfy NASA's standards for its Commercial Crew Program to carry agency astronauts to the International Space Station. NASA requires seven successful flights before the new rocket receives final certification for a manned mission.