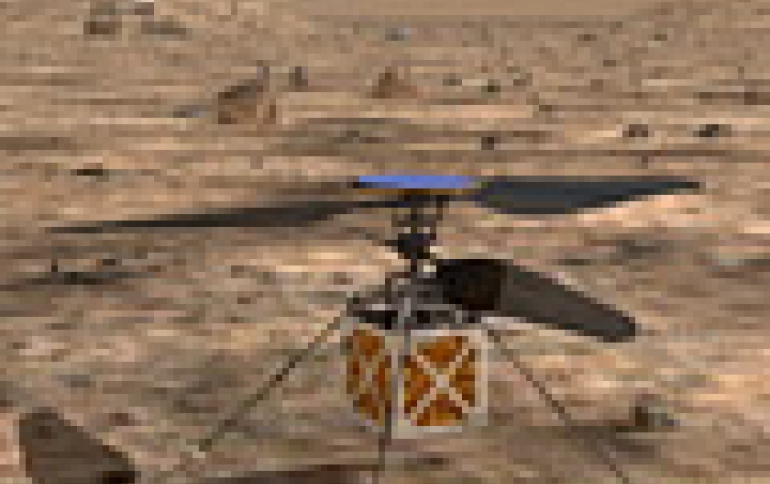 NASA Is to Test First Helicopter on Mars
NASA's Jet Propulsion Lab (JPL) on Friday confirmed that it's sending a fully-autonomous miniature test helicopter attached to the belly-pan of its Mars 2020 Rover mission to Mars.
The Mars Helicopter, a small, self-flying aircraft designed specifically for the Red Planet, will be used to send a birds-eye view of Martian terrain.
The 1.8 kilogram chopper is "a high-risk, high-reward project," the National Aeronautics and Space Administration said in a statement Friday.
"The ability to see clearly what lies beyond the next hill is crucial for future explorers," Thomas Zurbuchen, NASA's associate administrator for science, said. The views from a helicopter flying across Mars will also provide NASA with a public relations tool as it seeks international support for sending humans to the planet in the 2030s or later.
The biggest challenge for any heavier-than-air vehicle on Mars is simply the fact that Mars has an atmosphere that has recently been revised downward to only one percent that of Earth .
"To make it fly at that low atmospheric density, we had to scrutinize everything, make it as light as possible while being as strong and as powerful as it can possibly be," Mimi Aung, Mars helicopter project manager at JPL, said in a statement.
The helicopter's twin, counter-rotating blades will cut through what's left of Mars' Martian atmosphere at some 3,000 rpm. That's about 10 times the rate of a helicopter on Earth. It will be controlled through commands relayed from the rover, and will be powered by solar-charged batteries.
The Mars 2020 rover mission is scheduled for launch in the summer of that year to land in February 2021.