SpaceX Prepares For Difficult Launch With Falcon Heavy Night Flight
SpaceX is targeting Monday, June 24 for a Falcon Heavy launch of the STP-2 mission from Launch Complex 39A (LC-39A) at NASA's Kennedy Space Center in Florida.
This would be the third time the company is launching its Falcon Heavy rocket, but the fact that this is a night launch of the huge rocket makes it one of the company's hardest launches ever.
A four-hour launch window for the rocket opens tonight, Monday June 29 at 11.30pm Eastern time.
Falcon Heavy's side boosters for the STP-2 mission previously supported the Arabsat-6A mission in April 2019. Following booster separation, Falcon Heavy's two side boosters will attempt to land at SpaceX's Landing Zones 1 and 2 (LZ-1 and LZ-2) at Cape Canaveral Air Force Station in Florida. Falcon Heavy's center core will attempt to land on the "Of Course I Still Love You" droneship, which will be stationed in the Atlantic Ocean.
The Space and Missile Systems Center teamed with multiple commercial, national, and international mission partners for the historic DoD Space Test Program-2 (STP-2) launch. SMC procured the mission to provide spaceflight for advanced research and development satellites from multiple DoD research laboratories, the National Oceanic and Atmospheric Administration (NOAA), the National Aeronautics and Space Administration (NASA), and universities. The STP-2 mission will use a SpaceX Falcon Heavy launch vehicle to perform 20 commanded deployment actions and place 24 separate spacecraft in three different orbits. The spacecraft include the Air Force Research Laboratory Demonstration and Science Experiments (DSX) satellite; the NOAA-sponsored Constellation Observing System for Meteorology, Ionosphere, and Climate (COSMIC-2) constellation; four NASA experiments; and many other missions.
The most powerful modern rocket is boasting 5.1 million pounds of thrust from its 27 Merlin engines.
Update: Take off successful, Falcon Heavy's center core crashes into the ocean
SpaceX's most difficult launch yet proved to be as complicated as predicted, with the Falcon Heavy's center core booster crashing into the ocean. However, the two side boosters, being reused for the first time, did make it back to Earth in one piece. Those two rocket boosters safely landed back at the Cape Canaveral Landing Zone at 2:38 a.m ET.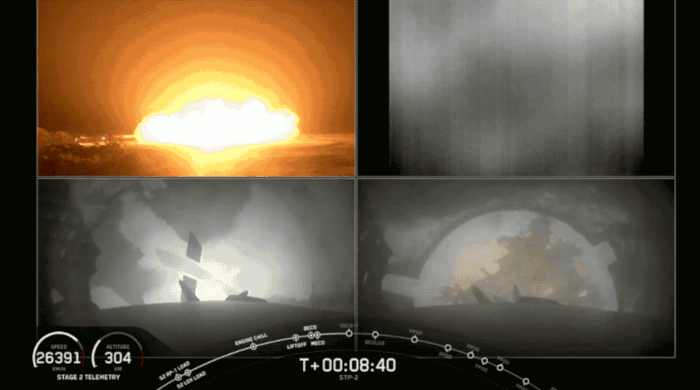 But the center core booster landing was the main dish and never landed on the plate and crashed into the ocean about 12 minutes after launch.
SpaceX founder Elon Musk had warned earlier that, because of the core's exceedingly high energy during its return to Earth, it only had about a 50 percent chance of landing on the drone ship. It didn't quite make it, making a visible explosion as it hit the water nearby.