Sony Unveils 2 PlayStation Pro and Slim, New Peripherals
As it ws expected, Sony today unveiled a slimmer, lighter, cheaper version of its PlayStation 4, as well as a Pro device targeted at hardcore gamers that features high-resolution images and a 1TB hard drive. The company revealed the long-rumored updates to its video game console at an event in New York's Times Square Wednesday.
The slimmer, more energy-efficient PS4 effectively replaces the existing model. It will cost $300, down from $350 for the previous version, and go on sale later this month in most markets.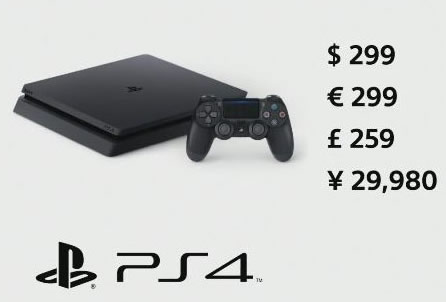 Unlike Microsoft's new Xbox One S, the PlayStation 4 Slim doesn't even bother to add 4K support for media playback. On the plus side, the PS4 Slim and the original console will both support HDR TVs thanks to a firmware update coming next week. When comparing the new PS4 standard model (Slim) to the current model, Sony's engineers have reduced volume by 30 percent, weight by 16 percent, and power consumption by 28 percent. The form factor of the new system inherits the slanted body design of the previous models, with the foreside and backside of its body slightly angled. The corners are trimmed and curved.  The new simple look, with gloss finished PS family mark designed on the center of the top surface, will fit perfectly wherever it is placed.
You'll have to wait until the also-announced PlayStation 4 Pro's release for that. The Pro will run the same PlayStation 4 games as the Slim, but with faster frame rates, higher resolutions, and more graphical bells and whistles, all for a relatively scant $100 price premium.
The PS4 Pro can output 4K and HDR video, which is powered by an upgraded AMD Polaris-based GPU (4.20 TFLOPS). However, even if you own an HDTV that does not support either 4K or HDR, PS4 Pro still provides a number of benefits. All games will run in 1080p resolution, and some will even run in a higher or more stable framerate. Sony also boosted the clock rate for the new PS4 Pro, and has added a 1TB hard drive. Interestingly, the PS4 PRO does not support Ultra HD Blu-ray discs. As it is, the capability to play 4K movies from discs is one thing Microsoft can claim as an advantage over Sony with its Xbox One S.
On stage, Sony showed off actual 4K game footage from games like Spider-Man and Deus Ex: Mankind Divided, not just 4K video running through the PS4 Pro. Titles like Call of Duty: Infinite Warfare and Modern Warfare: Remastered will be able to support PS4 Pro's extra capabilities out of the box on day one, while Battlefield 1 and FIFA 16 will be supported later this year, and Mass Effect: Andromeda gaining support next year.
PS4 Pro will also improve the PlayStation VR experience. Developers will be able to increase the crispness of scenes, up the frame rate, and more. Netflix and YouTube are also developing new apps specifically for the PS4 Pro.
Sony isn't the only one beefing up its hardware. At E3 this year, Microsoft unveiled a new version of the Xbox One codenamed Project Scorpio, which will similarly add 4K support and more power, while also adding support for virtual reality games as well. Microsoft is expected to launch Scorpio in fall 2017.
New peripherals
Sony also announced new peripherals for PlayStation4, including a new Wireless Controller (DUALSHOCK4), a new PlayStationCamera, as well as a vertical stand specifically designed for the new slimmer PS4™and the PlayStation 4 Pro systems – all will become available in Japan, North America and in Europe starting from September 15, 2016. SIE will also introduce the Platinum Wireless Headset this holiday.
New Wireless Controller for PlayStation4 (CUH-ZCT2 series)
The new Wireless Controller for PS4 (DUALSHOCK4) allows the light from the light bar to emit on the touch pad, making a new luminous line in the same color as that of the light bar. This provides gamers with visual information, such as which character they control or health status, at a glance. Furthermore, the new DUALSHOCK 4 supports USB communication in addition to the currently available Bluethooth communication, allowing users to have control also via cable. The DUALSHOCK 4 wireless controller will be available at a manufacturer's suggested retail price (MSRP) of 5,980 yen, $59 USD, €59 and £54.
New PlayStationCamera (CUH-ZEY2 series)
The redesigned PlayStation Camera (PS Camera) inherits all the features available on the current model, including PlayStation VR (PS VR) support, and features a new compact cylindrical form. PS Camera includes a stand allowing users to adjust the angle of the PS Camera and set it up in their preferred location, such as on top of their TV or entertainment center. The new PS Camera will be available at a MSRP of 5,980 yen, $59 USD, €59 and £54.

Vertical Stand (CUH-ZST2 series)
The vertical stand is specifically designed for the new slimmer PS4 and PS4 Pro. The stand was made with translucent material to resemble the "shadow" of the system when set vertically. Two different attachments are bundled so users can mount either the slimmer PS4 or PS4 Pro with ease. The new vertical stand will be available at a MSRP of 2,280 yen, $24 USD, €19 and £16.
Platinum Wireless Headset
The Platinum Wireless Headset, which will be available at a MSRP of 18,000 yen, $159 USD, €179 and £129, is a high-end gaming headset that makes games on PS4 come alive with rich audio. The headset boasts premium construction and materials for comfort, as well as enhanced highly positional 7.1 virtual surround sound powered by SIE's proprietary 3D audio technology. Select PS4 games supporting 3D audio for the headset will deliver surround sound from all directions, including above and below you. The new headset also features multi-position, hidden noise-cancelling microphonesand is also compatible with PS VR and mobile devices using an included 3.5mm audio cable.
Specifications
PlayStation 4 (CUH-2000 series) - PS4 Slim
Color
Jet Black
Product code
CUH-2000 series
Main Processor
Single-chip custom processor
CPU : x86-64 AMD "Jaguar", 8 cores
GPU : 1.84 TFLOPS, AMD Radeon™ based graphics engine
Memory
GDDR5 8GB
Storage size*6
500GB、1TB
External dimensions
Approx. 265×39×288 mm (width × height × length) 
(excludes largest projection)
Mass
Approx. 2.1 kg
BD/ DVD drive
(read only)
BD × 6 CAV
DVD × 8 CAV
Input/ Output
Super-Speed USB (USB 3.1 Gen1) port × 2 
AUX port × 1
Networking
Ethernet(10BASE-T, 100BASE-TX, 1000BASE-T)×1
IEEE 802.11 a/b/g/n/ac
Bluetooth v4.0
Power
AC 100-240V, 50/60Hz
Power consumption
Max. 165W
Operating Temperature
5 ºC – 35ºC
AV output
HDMI out port (HDR output supported)
PlayStation 4 Pro (CUH-7000 series)
Color
Jet Black
Product code
CUH-7000 series
Main processor
Single-chip custom processor
CPU: x86-64 AMD "Jaguar", 8 cores
GPU: 4.20 TFLOPS, AMD Radeon based graphics engine
Memory
GDDR5 8GB
Storage size
1TB
External dimensions
Approx. 295×55×327 mm (width × height × length) 
(excludes largest projection)
Mass
Approx. 3.3 kg
BD/ DVD drive
(read only)
BD × 6 CAV
DVD × 8 CAV
Input/ Output
Super-Speed USB (USB 3.1 Gen.1) port × 3
AUX port × 1
Networking
Ethernet (10BASE-T, 100BASE-TX, 1000BASE-T)×1
IEEE 802.11 a/b/g/n/ac
Bluetooth® 4.0 (LE)
Power
AC 100V, 50/60Hz
Power consumption
Max. 310W
Operating temperature
5ºC – 35ºC
AV output
HDMI out port (supports 4K/HDR)
DIGITAL OUT (OPTICAL) port
Wireless Controller for PlayStation 4 (DUALSHOCK 4)
Color
Jet Black
Product code
CUH-ZCT2 series
External Dimensions
Approx.161mm x 57mm x 100mm (width x height x depth)  (excludes largest projection)
Weight
Approx.210g
Keys / Switches
PS button, SHARE button, OPTIONS button, Directional buttons (Up/Down/Left/Right), Action buttons (Triangle, Circle, Cross, Square), R1/L1/R2/L2 buttons, Left stick / L3 button, Right stick / R3 button, Touch Pad Button
Touch Pad
2 Point Touch Pad, Click Mechanism, Capacitive Type
Motion Sensor
Six-axis motion sensing system (three-axis gyroscope, three-axis accelerometer)
Other Features
Light Bar, Vibration, Built-in Mono Speaker
Ports
USB (Micro B), Extension Port, Stereo Headset Jack 
Communication Specifications
Bluetooth v2.1+EDR
USB HID Class, USB Audio Class
Battery
Type
Built-in Lithium-ion Rechargeable Battery
Voltage
DC3.65V
Capacity
1000mAh
PlayStation Camera
Product code
CUH-ZEY2
External Dimensions
Without Stand: Approx. 159mm x 28mm x 28mm
(width x height x depth)
Weight
Without Stand: Approx.152g
Video Pixel 
 (Maximum) 1280 x 800 pixel x 2
Video Frame Rate
1280x800 pixel @ 60fps, 
640x400 pixel @ 120fps, 
320x192 pixel @ 240fps
Video Format
RAW, YUV (uncompressed)
Lens
Dual Lenses, F value/F2.0 fixed focus
Capture Range
30cm~∞
Field-of-View
85°
Microphone
4 Channel Microphone Array
Connection Type
PS4 dedicated connector (AUX connector)
Cable Length
Approx. 2m
Included
PlayStation Camera x1
Stand x 1
Vertical Stand
Product code
CUH-ZST2
External dimensions
Approx. 295mm x 9.5mm x 116mm (width x height x depth)
Weight
Approx. 129g 
Supports
CUH-2000 series, CUH-7000 series
Included
Vertical Stand for PlayStation®4×1
Attachment( CUH-2000 series) x 1
Attachment(CUH-7000 series) x 1
Mounting screw x 1
Platinum Wireless Headset
Product code
CECHYA-0090
MSRP
JP 18,000yen (excluding tax), US$159, EU€179 and £129*4
Battery
Type
Built-in Lithium-ion Rechargeable Battery
Voltage
DC 3.7 V
Capacity
760 mAh
Dimensions 
Wireless headset: Approx. 168 x 192 x 40 mm (width × height × depth)
Wireless adaptor: Approx. 21 x 15.71 x 54 mm(width × height × depth)
Weight
Wireless headset: Approx. 318.2 g 
Wireless adaptor: Approx. 13.3 g
Communication system
2.4 GHz RF
Included
Wireless headset ×1 
Wireless adaptor ×1 
Audio cable×1
USB cable×1
Pouch×1