1. Meet the Sony BDX-S500U BD burner
Today we have in our labs an external, slim-type Blu-ray disc writer. The Sony Optiarc BDX-S500U writes to Blu-ray Disc at 6x speed, plays Blu-ray Disc movies, DVDs and CDs, archives large quantities of data and is suitable as a back-up medium and playback unit for practically any kind of terminal device.
Delivered with the CyberLink BD Suite, the external burner can be installed in the living room replacing the DVD player in the home cinema system. It is also optimally equipped for future home cinema applications as one of the first Blu-ray Disc players for 3D movies. Of course, the compact and light drive can be also used as a PC and notebook companion.
The burner comes with CyberLink's Media Suite 8, a software package that includes programs such as the DVD/Blu-ray Disc playback software PowerDVD, the video editing software PowerDirector, and the DVD/BD authoring software, PowerProducer. These programs make it easy to play back 3D Blu-ray Disc videos, edit creative home video material and produce and burn your own Blu-rays Discs and DVDs with menus. Data archiving is also simple with the PowerBackup burning software.
Sony Optiarc's new product writes single layer BD-R media (25 GB) in around 20 minutes (6X) and double layer BD-R (50 GB) media at up to 4X speed. The BDX-S500U can write DVDs at up to 8X speed, DVD-RAMs at up to 5X speed and CDs at up to 24X speed.
Sony Optiarc offers a 24-month warranty on the drive.
Specifications:
On the left picture you see the retail package of the BDX-S500U writer.
Besides the drive, the box includes a comprehensive set of accessories plus a Sony BD-R 6x BD-R disc (blank).
Here is the complete bundle:
BDX-S500U Blu-ray Disc writer
AC power Adaptor (with cord for both UK and US regions)
User manual and quick start guide
USB cable
Sony BD-R 6x blank disc, printable surface
Sony software disc

Cyberlink PowerDVD
Cyberlink PowerProducer
Cyberlink Power2Go
Cyberlink MediaShow
Cyberlink LabelPrint
Cyberlink PowerDVD Copy
Cyberlink PowerBackup
The BDX-S500U is very stylish and its case plastic case has a great black glossy finish. At the top side panel there are the Blu-ray disc and DVD , CD recordable certification logos, as well as a small green led that lights up when the drive is connected to the AC power adapter.
.
The front side of the disc loading tray has the typical eject button, the busy indicator and the emergency eject hole. The DC input jack (power) and the USB 2.0 connector are available at the rear side of the drive:
Below you see the basic steps you should follow in order to operate the drive: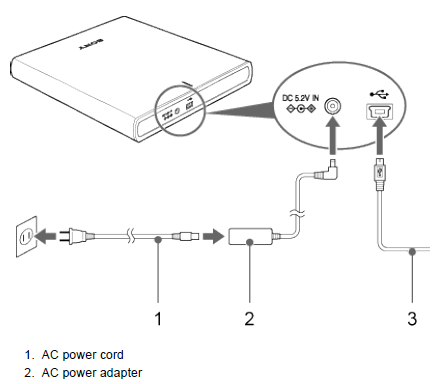 Connected to our test PC's USB 2.0 port, the drive was identified as "SONY BD RW BDX-S500U" USB device. Here is some additional information about drive as it is reported by the DVDInfo PRO and Nero InfoTool utilities: