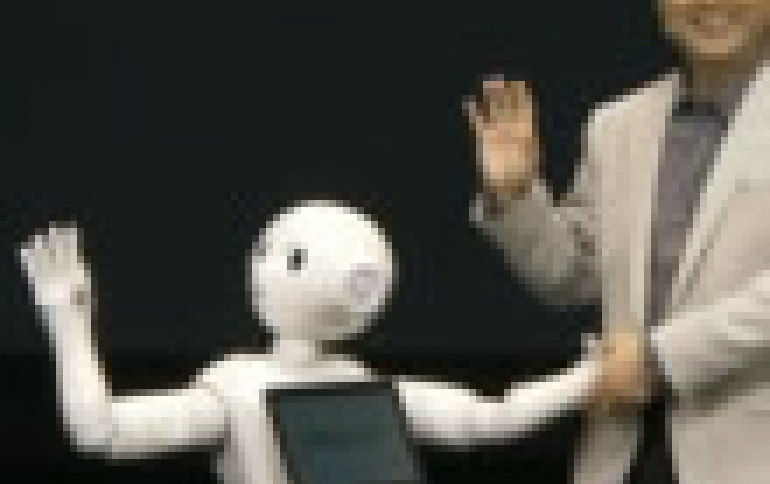 SoftBank's 'Pepper' Personal Robot Reads Emotions
SoftBank Corp said on Thursday it will start selling human-like robots for personal use by February 2015, priced at $1,900. Designed by Japan's mobile operator SoftBank Mobile Corp. and Aldebaran Robotics SAS, "Pepper" is a personal robot that can read emotions. The robot incorporates variety of technologies and capabilities. It takes his surroundings into consideration to react pro-actively using proprietary algorithms. Pepper also comes equipped with capabilities and an interface that enables communication with people, including the latest voice recognition technology, joint technology to realize graceful gestures, and emotion recognition that analyzes expressions and voice tones.
Softbank Mobile says that with these technologies, people can enjoy communicating with Pepper in a natural way, just like they would with friends and family. In addition, Pepper can make jokes, dance and amuse people thanks to a wide variety of entertainment capabilities. Capabilities that help Pepper evolve by learning through daily interactions with people are also being planned for the commercial launch timing.
Furthermore, robot apps -- programs that can be incorporated into Pepper's various capabilities, including motion, conversation and sensors -- are scheduled for expanding Pepper's capabilities. The Aldebaran software development kit (SDK) will be provided for creating robot apps, and in September 2014, a Tech Festival in Tokyo is under planning to provide technical specifications, development methods and other details.
SoftBank 's humanoid robots will be outsourced to Taiwan's Hon Hai Precision Industry Co., the world's largest contract electronics manufacturer.
Several Japanese technology manufacturers are targeting robotics for growth. Panasonic and robotics research subsidiary ActiveLink Co Ltd this week showcased robotic suits and vests to assist in arduous manual tasks such as carrying heavy loads or picking fruit from trees. Personal robots, such as the Asimo robot that Honda Motor Co has been developing for more than a decade, are seen as potential elderly care providers.
Dimensions
1,210mm (height) × 425mm (depth) × 485mm (width)
Weight
28kg
Battery
Lithium-ion battery
Capacity: 30.0Ah/795Wh
Operation time: approx. over 12hrs (when using at shop)
Sensors
Head
Mic × 4, RGB camera × 2, 3D sensor × 1, Touch sensor × 3
Chest
Gyro sensor × 1
Hands
Touch sensor × 2
Legs
Sonar sensor × 2, Laser sensor × 6, Bumper sensor × 3, Gyro sensor × 1
Moving parts
Degrees of motion
Head (2°), Shoulder (2°) (L&R), Elbow (2 rotations) (L&R), Wrist (1°) (L&R), hand 5 fingers (1°) (L&R), Hip (2°), knee (1°), base (3°)
20 Motors
Display
10.1-inch touch display
Platform
NAOqi OS
Networking
Wi-Fi: IEEE 802.11 a/b/g/n (2.4GHz/5GHz)
Ethernet × 1 (10/100/1000 base T)
Motion speed
Up to 3km/h
Climbing
Up to 1.5cm