Intel Brings Gesture-controlled Computing To Everyday Life, Promises Wire-free Notebooks by 2016
Intel said at Computex that its gesture-controlled technology could soon become part of everyday life and move beyond computers. The company's stand at the Computex trade show includes a living space centred around a kitchen, illustrating that even touchsceeens that control home appliances could be a thing of the past.
The demonstration included an actrees with messy hands from cooking clicked through icons and apps on a monitor using just hand motions and without actually touching the screen.
Intel says the home usage of gesture will become a reality using more cameras, microphones and sensors, used to natively recognise what you're doing.
All these are powered by Intel's sense technology which uses a camera with both 2-D and 3-D capabilities embedded into devices.
Intel's gesture-controlled technology should be available on a range of devices by the end of the year.
Microsoft and Sony have also added motion-controlled accessories for their game consoles.
Skylake Platform To Support Wigig And A4WP Wireless Charging
Intel on Wednesday also revealed at Computex plans to deliver its "Skylake" platform next year, which will support wireless communications and cable-free charging through the adoption of Wigig A4WP's Rezence technologies.
Intel says that the "Skylake" platform, which will succeed Broadwell, will bring a a completely wire-free PC.
Kirk Skaugen, Intel's senior vice president and general manager of the PC Client Group, demonstrated a table with a magnetic resonance charging system attached under its surface. The charging system was based on the Rezence technology, developed by the Alliance for Wireless Power (A4WP). According to the latest specification, Rezence will support wireless charging of multiple devices with differing power requirements (up to 50 watts) on the same charging surface. The system can be installed under a table surface, with magnetic resonance capable of charging through the table's wood. It can also charge any number of devices at the same time.
Intel is also developing WiGig modules for laptops, desktops and high-resolution displays. The WiGig wireless technology automatically docks devices together (distance up to 10m) , and supports speeds up to 7Gbps using the 60GHz frequency band.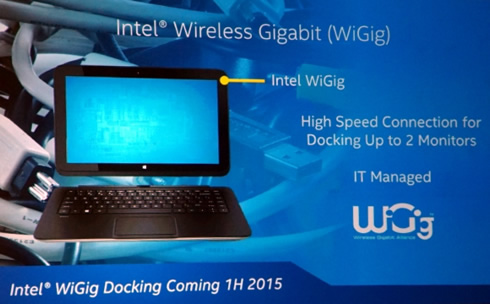 Skaugen demonstrated WiGig connectivity by wirelessly streaming HD content from a tablet to a display.
The first Intel-powered notebookssupporting both WiGig and A4WP are expected to appear in 2016.