Shuttle SH81R4 mini PC review
2. Unboxing
The SH81R4 came in the box you see below, with a printed sticker on its side listing the the basic specs of the device.
The device was well-packaged and secured inside the cardboard box, along with the following accessories:
The Shuttle barebone
Multi language XPC Installation Guide
32/64bit driver disk
2x SATA cables
1x Power Cord
1x Heatsink Compound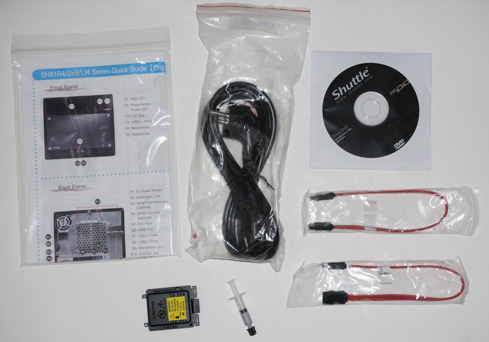 For our test, Shuttle provided us with the WLN-C (Wifi module) and the PHD3 dual 2.5" bay. You can also choose to get an optional back panel adapter for the serial RS232 port (H-RS232) and a larger 500W PSU, 80Plus Silver (PC63J).
We also used a 2x8GB Memory Kit and a 512GB M550 SSD, both kindly provided by Crucial. And of course, we installed an Intel i7-4790 processor in order to get the SH81R4 complete and ready for some benchmarks.
Shuttle's WLN-C Wifi module includes two sets of antennas and their accompanied cables, an installation manual and a half size Mini-PCIE socket.
The PHD3 dual 2.5" bay is shown below:
The device has the familiar Shuttle look we have seen in the past, black aluminum chassis. Its size is 32.5 x 21.5 x 19 cm and it s weight around 3.5kg. The front of this XPC is customized by simply changing the acrylic front plate. You can add any design, such as a photo, graphic, or a company logo to the front panel.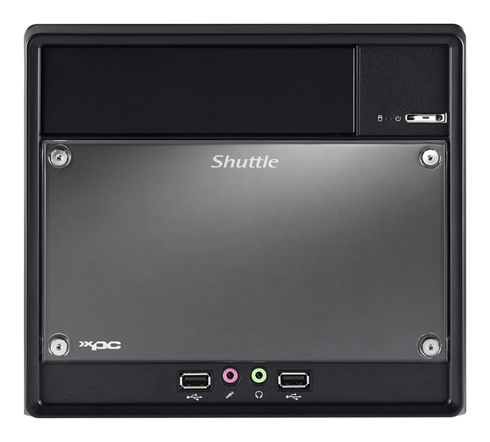 On the front panel there is a PowerButton/power led, a 5.25" bay for optical drives, two USB2.0 ports, microphone and headphones jacks.
At the rear side of the chassis you can identify and internal fan and a series of ventilation holes, along with the following:
1x HDMI (supports 4K resolution 2160p/30Hz)
1x DVI-I
2x USB 3.0
6x USB 2.0
GigaBit LAN (RJ45)
Audio Line-out (3.5 mm)
Audio Line-in (3.5 mm)
Microphone Input (3.5 mm)
Clear CMOS button
Optional: Serial RS232 port (Accessory: "H-RS232")
Perforations for optional WLAN antennas (Accessory: "WLN-C")
Have in mind that in case you install an extra graphics card, the internal HDMI/DVI ports will be disabled.