Lexar Professional Workflow DD512 512GB Review
1. Features
The Lexar Professional Workflow line of products is a modular device that accepts includes a choice of two four-bay reader and storage drive hubs, a selection of card readers, and two storage drives. It has been designed to let you offload and back up your work, faster.
Lexar has recently added 512GB and 256GB USB 3.0, flash-based storage drives to its Professional Workflow Line. The Professional Workflow DD512 and DD256 storage drives give photographers and videographers the power to back up images and video files from multiple memory cards at once.
The drives have been released as a storage options for the Lexar Professional Workflow line of products but still, Lexar believes they can be also used as a stand-alone external SSD drives.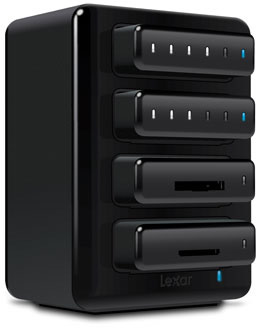 Leveraging USB 3.0 speeds, the drives provide read transfer speeds up to 450MB/s and write speeds up to 245MB/s. The drives also include an LED capacity meter, so you can see available storage space at a glance.
The Lexar Professional Workflow DD512 and Lexar Professional Workflow DD256 are available with MSRPs of $200 and $140, respectively, and each include a two-year limited warranty.
Today we have in our labs the DD512 flash-based storage drive. It can be simply plugged into the hub and start transferring and archiving files. It can be used with Workflow HR1 and HR2 USB and Thunderbolt 2 hubs, and is compatible with both PC and Mac. And of course, you can use it as an external USB 3.0 SSD.